The number of pigs produced in organic systems represented 0.6 per cent of total UK output, according to figures released last year by Defra. Even though the figure of 30,000 pigs was almost 6 per cent up on 2014, it does not hide an overall downward trend from the 2011 peak of 52,100.
Organic farmers Fabienne and Simon Peckham include pigs in their agricultural cycle on their mixed enterprise at Galileo Farm, near Moreton Morrell in Warwickshire.
Their field-to-fork approach has seen them develop their retail business to encompass an on-farm butchery, cutting room, pig roasts and 40 flavours of sausage, which they regularly sell at several London-based farmers' markets.
Fabienne explained: "We are lucky, organic pork is a premium product so we can earn the money to enable us to raise pigs in the traditional way we believe in.
"Our pigs are derived from Berkshire cross Old Spot, and we then put a Large White cross Middle White crossed with a Duroc boar on them to try to improve finishing time. We found Berkshires were going to nine months and having crossed them it's six or seven months, which is far better financially."
Fabienne and Simon are considering adding commercial sires while Fabienne is keen to retain the 'hardiness I like in an outdoor pig'.
She said: "My ideal is to return to pedigree Berkshires, which is what we started with, because they make good mothers. But looking at the cost efficiency of it, as we actually have to make money out of them, you need some commercial breeding in there to speed the job up."
Fabienne farmed in her own right until she married Simon, and the farm has since expanded to 105 acres of grassland. They are members of the Soil Association and keep at least 12 sows, a boar and growers. "We market the meat ourselves, through gate sales and farmers' markets. Luckily balancing the carcass is no problem as we sell lots of sausages, as well as beef, lamb, chicken and our own free-range eggs," said Simon.
"We buy organic compound pig feed. We used to mix our own, but barley dust hates me, although the price goes in one direction only and that's up. It is more expensive than conventional feed, but rising feed bills are probably something we have in common with all farmers."
Asked why they decided to have their own cutting room, Fabienne (pictured, below) said: "Its down to the way the business went. A few years ago we supplied a butcher in Birmingham with carcasses and spent days there cutting up our own meat. He was teaching us, but six-and-a-half years ago we reached the point where we needed our own facilities."
"We are lucky, organic pork is a premium product so we can earn the money to enable us to raise pigs in the traditional way we believe in"
Planning permission for the cutting room was not required as they converted an existing building – originally built for poultry processing – and sell home-produced meat.
She explained: "We were overseen by environmental health, they were really useful and guided us along the way as to their requirements.
"We had to pass Level 2 (of the FSA) food hygiene regulations as well. I also did Level 3 because I oversee everything and obviously we have got staff so I felt, for myself, it was essential."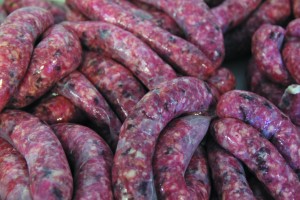 The farm averages 300kg of pork and sausages and roasts three to four pigs each week.
"We like our cutting pigs at 55 to 60kg, a bacon pig would be 70kg and with the pig roasts we need a carcass with about half an inch back fat and a lot of fat running through it, otherwise it's hard work carving them," Fabienne commented. "Our sausages are pretty meaty – gluten-free are 90 per cent meat and the others around 75- 80 per cent. There are 40 in the range, but some are seasonal; Daniel, who came to us on work experience and is now full-time, particularly likes our Christmas special with chestnut, cranberry, orange and herb.
"We also have Claire who has made our sausages for three years. She also works at the abattoir we use at Long Compton, which is nearby. We get the whole carcass back for pigs and sheep, but they cut up the beef for us as there is a lot of it."
The Peckhams run three refrigerated vans to markets and have London staff, most of whom work on the markets to learn about food and some visit the farm with a genuine interest in organic farming.
"The pig roasts are for private events and the markets," said Fabienne. "They go down well at markets but that's a speculative thing, whereas at a private event it is a given because people have ordered it and you are paid upfront."
The fact the Peckhams supply organic pig roasts gives them a unique selling point (USP) in a highly competitive market, added Simon. Aside from weekly markets at Wimbledon, Parliament Hill, Notting Hill, Horniman, Islington, Marylebone and Parsons Green, they offer Christmas farm gate sales from a cold store trailer parked at the end of the farm's drive.
Fabienne adds: "We've made good friends and met interesting people. It is imperative to maintain a regular supply for customers and attend consistently. We have done markets for seven years and apart from a couple of weeks holiday, haven't missed one. We only close between Christmas and New Year."