Digital Advertising Opportunities
www.pig-world.co.uk is the leading news website serving the British pig industry. With an increasing readership that has seen the average unique visitor numbers rise from 3,912* in January – March 2015 to 6,341* during the same period in 2016 you can be assured of reaching the UK's pig sector with your online campaign. With both Brand Awareness and Lead Generation options we can tailor your campaign to meet your requirements, whether this is to drive traffic to your website or deliver leads for your sales team.
*Source: Google Analytics
Super Leaderboard (970px x 90px) and MPUs (300px X 250px)
These adverts (see above and right) appear throughout pig-world.co.uk, across ALL pages. Your banner creative can be animated (GIF / SWF) or a static (GIF / JPEG).
E-alert Sponsorship
Our twice weekly e-newsletter reports on the top news stories from across the UK pig industry. You can include your MPU (300×250, static) banner or lead generation text advert within the emails to put your message in front of our subscribers.
We can provide assistance with the production of online banners should you need help in putting together a professional banner.
For further information on the online opportunities available, please call Martin Goult on 01825 983124.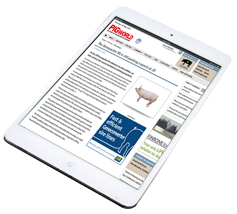 Magazine Advertising
Pig World is a wholly paid-for-publication, reaching more pig producers than any other publication. The circulation of 4,100 (January 2015) includes all members of the National Pig Association (NPA), the representative body of the British Pig Industry. NPA members represent 85% of British pig production.
The voice of the British Pig industry since 1987, Pig World is driven by strong editorial content hard news, controversial comment, solid technical information, zero flannel. This content is well received by our readers who spend an average of 46 minutes reading every single issue of Pig World*.
"Advertising in Pig World has proved very successful for Galebreaker. We have seen increased traffic on our website and have had tangible responses to our adverts – one reader called our sales office to place an order based on having seen our advert that day. Great team of people to work with too."
Advertising in Pig World has a proven track record in:
Increasing brand awareness
Increasing sales
Filling vacancies
*Results from Pig World reader survey, February 2013.
To take advantage of any of these opportunities call our Sales Director – Martin Goult on 01825 983124