Danish Crown will continue to grow its presence in the UK, whatever the outcome of the Brexit negotiations, the meat processing giant's deputy chairman, Asger Krogsgaard, told the conference.
Mr Krogsgaard, a farmer himself, with 1,700 sows across six sites in Denmark, outlined how, over the past 15 years, the group had grown into a 'strong international company' that has come to epitomise the globalised nature of the pork industry.
The cooperatively-owned processor is now the world's largest pork exporter, producing 22 million pigs a year with a presence in 136 markets around the world.
While, historically, the UK has been a key market, Asia has grown to become the number one destination. Only 10% of Danish Crown's revenue is actually generated in Denmark, with 30% coming from Japan and 31% from China.
"We see the UK as a home market and will develop this market regardless of the Brexit outcome"
"As a global company, we are highly dependent on international trade agreements. Our focus is still on export, export," he said.
He said the company was hoping the EU would secure a Free Trade Agreement (FTA) with Japan this summer, while it also 'has one eye on Mexico' and is planning to invest in facilities in China. "We need long and lasting relationships with our customers," he said.
To succeed in this environment, he said the processor 'needs to be competitive all the time', adding that he was 'proud' of the Danish Government for assisting what is now one of Denmark's biggest businesses in its efficiency drive and in targeting export markets.
Mr Krogsgaard stressed the importance of the 'home market', too, which he described as Denmark, plus Sweden, Poland and the UK, all of which Danish Crown now has a significant stake in.
The UK remains a key market, he added, with exports from Denmark worth £400 million, on top of the company's presence in the processing sector in the form of wholly-owned subsidiary Tulip.
About Danish Crown
* A farmer coop, founded in 1887
* Started exporting bacon to the UK in 1912, while its current international drive began in 2002
* 7,600 farmer members, 2,200 of which produce pigs and the rest beef
* Slaughters 22m pigs per annum, including 14m in Denmark
* Turnover of DKK 60 billion (approx £7bn) in 2015/16, compared with DKK 12 (£1.4bn) in 1995/96
* Exports to 136 markets, with 2015/16 exports worth DKK 24bn (£2.8bn), 22% of total Danish food exports
* Produces 928,000 tonnes of processed meat products a year.
He outlined his desire to see the UK secure a 'reasonable Brexit deal', including a trade agreement allowing tariff-free trade in goods and services.
"Divorces are often difficult, so with Brexit, it is important the two sides maintain respect and care for each other," he said.
"Danish Crown's investment in the UK gives it a strong position, whatever. We believe our activities in the UK have been to the benefit of British farmers and customers.
"We see UK as a home market and we will develop that market with farmers, retailers and the foodservice sector, whatever the outcome of the Brexit negotiations."
He added: "The key to success is to keep moving and to have the positivity to move.
"It is important to have many doors open all the time."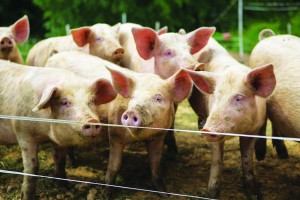 2022 strategy in four-wheel drive

Mr Krogsgaard outlined the company's recently-developed five-year strategy, setting out where it wants to be in 2022.
He likened it to moving from a two-wheel drive vehicle to a four-wheel drive, 'so we can move all over the world finding the best market'.
The four main focus areas are:
* Have a leading position on our home markets
* Be driven by consumers, for example, antibiotic-free production
* Create value for our customers
* Act as a single unit, ensuring all the companies merged into Danish Crown are 'thinking in the same direction all over world'.

Labour cost
Danish Crown employed 26,000 people in 2016 but only 30%, 8,000 workers, were Danish. This compared with nearly 80%, 15,500 workers, in 2000.

Mr Krogsgaard said UK labour cost just 40% of the cost of Danish labour, and Polish labour just 30% of the Danish cost, partly explaining the drive behind its acquisition of EU processing plants.