Two days before Christmas 2016, two men aged 19 and 35 died in a slurry tank on a farm in Leicestershire. Despite the best efforts of fire crews to cut the men free, the two farm workers lost their lives.
These deaths were just two out of more than 300 on British farms over the past decade. On average, there is a death every nine days on a British farm. Statistically, farms are the most dangerous places to work in the UK. Construction work is five times safer than farm work (per year there are on average two deaths per 100,000 in construction, compared to 10 per 100,000 in farming). "All of the deaths we see are needless," said Rick Brunt, head of vulnerable workers, agriculture, waste and recycling at the Health & Safety Executive (HSE).
The latest fatal injury statistics are due to be published by the HSE this month and all the indications are that the figures will show no improvement in the farming industry's safety record.
Last year, 27 people lost their lives following a workplace accident on a farm. The causes of accidents stubbornly remained the same as in previous years.
The NFU's chief farm safety adviser, Tom Price, spoke to the NPA producer group in June about the industry's ongoing failure to improve its record, brought starkly into focus in recent weeks by a number of high-profile deaths. These included Somerset farmer and businessman Derek Mead, who was crushed by his own vehicle after it was reportedly accidentally set in motion by his dog, and Andrew Sheppy, a leading livestock conservationist, who died in early May following a fall on his farm.
Preventable accidents
Although accidents can happen, even with the best precautions and risk management plans in place, all too often those that occur in agriculture are preventable.
Vehicle accidents are a good example. "In the last 10 years, 36 of the 98 vehicle fatalities were caused by the operator being run over by his own vehicle," Mr Price said. These 36 lives could very likely have been saved, he added, by following the 'safe stop' procedure of:
* Handbrake on
* Controls in neutral
* Engine off
* Key out
"The starting point to improve the industry's record is to look critically at the business and to conduct a thorough risk assessment," said Mr Price. A risk assessment need not be a difficult exercise – it is all about thinking what might cause harm to people and then taking reasonable steps to prevent the harm, he added. Lone working is one example of a risk. Ways to manage it might include:
* Letting other people know when and where a person might be working alone
* Keeping in touch by mobile or two-way radio
* Agreeing times to report back in
The HSE's website has information about risk management, including a risk assessment template.
Deaths on farms
On average over the past 10 years, one person is killed every nine days as a direct result of an agricultural work activity
Almost two-thirds of worker deaths were self-employed
One in every three reported fatalities of non-employed people was a child.

Of the 29 deaths last year, seven were transport-related
Two involved tractors: a 42-year-old employee died when the tractor rolled over trapping him inside; a 68-year-old self-employed farmer was found trapped underneath a tractor and trailed fertiliser spreader.

Falls from a height caused six deaths
A 61-year-old self-employed farmer was removing roof sheets when he fell through a fragile barn roof, and a 51-year-old self-employed farmer was walking on the roof when he fell through a plastic roof light onto the concrete floor below.

Drowning and asphyxiation caused a further four deaths
Two workers were found dead in an underground slurry pit while attempting to clear a blockage pipe
A 73-year-old self-employed man in a family farming business was found drowned in a pond.
What can the industry do?
Mr Price's presentation prompted a discussion within the NPA producer group about why things are not getting any better and what the industry can do to address the problem. The industry's age profile, regular work with heavy machinery, a tendency for farmers to work in isolation and an 'always-done-it-that-way' attitude were all highlighted as factors. Increasing awareness of the risks and the deployment of peer pressure to change attitudes were identified as part of the solution.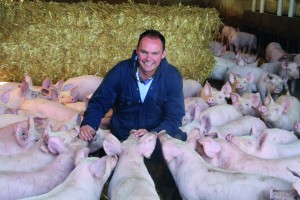 NPA chairman Richard Lister said: "This is a very sobering set of figures for the whole of the agricultural industry.
"I think as producers, owners and managers, we all have to consider if we are doing everything within our control to avoid the prospect of accidents occurring. The involvement of all staff in this process will be key to affecting change and enabling us to create a safe working environment."
Safety culture
Some businesses have introduced training in an attempt to instil a safety culture. Wayland Farms in Norfolk, which employs 95 people and is part of the Cranswick group, has made this a priority. Two years ago, Peter Buckle, an HGV driver employed by the business, died in an accident after a tailgate fell on him while he was loading rubbish into the back of the vehicle. The coroner ruled he died of misadventure.
Robin Simon, health & safety, environmental and welfare manager at Wayland, said all staff are encouraged to 'stop and think' before undertaking a task, and to ring a manager to discuss how to proceed. Training is also key.
"All staff are trained for working at height and in manual handling, all are trained on telehandlers and we are now catching up on tractor training, and at least half our staff have had training in health & safety awareness," he said.
"We look at some training or refresher course each year for every employee working on our farms.
"I would recommend all farm staff have some form of formal training once a year. I believe all farm staff should be trained in emergency first aid at work.
"The statistics are damning to agriculture in relation to other industries and we must look more closely at training needs for those employed within the industry."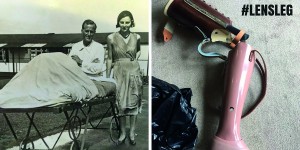 #LensLeg
Wake-up calls can come in different forms. At the NFU's June council meeting, there was a memorable discussion about farm safety led by Phil Latham, Cheshire county chairman.
While speaking, he opened a black bag to reveal an antique prosthetic leg. The false limb had belonged to Phil's late grandfather who had lost his leg after he developed gangrene when a shire horse stood on his foot. Among the dark humour, he very articulately alerted council to the importance of farm safety.
The reaction prompted Hertfordshire council chairman Stuart Roberts to launch a social media campaign – #LensLeg – to encourage the farming industry to up its game on safety. It has generated lots of interest.
Mr Roberts said: "As an industry, I think it is fair to say we have an appallingly bad track record, especially in comparison with comparable sectors such as construction. I decided to have an honest discussion with myself, my children and my staff and we have agreed to do one thing every day for the next 30 days to improve safety for those who live and work on, and visit, our farms.
"I'm not one for preaching to others but I wanted to share our approach in the hope that at least one other person might do the same."