During the 12 weeks ending 22 April, the volume of fresh/frozen pork sold at retail level declined by 5% on-the-year, according to retail data from Kantar Worldpanel.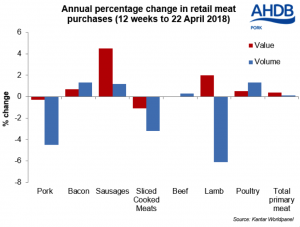 Shelf prices may well have influenced this decline as the average price per kilogram increased by 4% year-on-year; the combined effect was total spend in the sector remained steady.
However, perhaps more positive for the category was that although market penetration (the percentage of shoppers purchasing fresh/frozen pork on at least one occasion) declined by just one percentage point this meant some shoppers purchased less instead of leaving the category.
Perhaps un-surprisingly the cuts which recorded the largest increases in price (belly, loin roasting and shoulder roasting joints) also recorded the largest reduction in volume sold. Equally, leg roasting joints which recorded a 12% decrease in price, recorded 18% growth in volumes sold.
The performance of processed pork followed a different trend during the 12 week period ending 22 April, with the volume of sausages sold increasing by 1% despite a 3% rise in average retail price which may perhaps have been driven by the short spell of barbequing weather.
Performance of other primary meat was mixed. The average retail price of fresh/frozen lamb increased by 9% compared to year earlier levels, which has a 6% decline in volumes sold, although total spend increased by 2%. During the period, which included Easter, market penetration of lamb increased by four percentage points. The retail price, volume and spend of fresh/frozen beef remained steady on-the-year. The volume of fresh/frozen poultry increased by 1% year-on-year, even though fresh chicken sales increased in volume by 7%, this was potentially at the expense of whole chicken volumes which declined by 1%. The total volume of primary meat sold during the 12 week period remained steady on year earlier levels.