In the year to May, Spain produced over two million tonnes of pork, an 8.5% increase year-on-year.
Slaughterings totalled 22.6 million pigs, with an average carcase weight of 88.8kg, 1.6kg heavier than during the same period in 2017. This increase in production has supported an expansion in exports. Spanish pig meat exports (excluding offal) grew by 6% in the first six months of the year to over 860,000 tonnes, but fell in value by 1% to €2.2 billion. Priced in euros, the average unit value of these exports was nearly 7% lower than last year.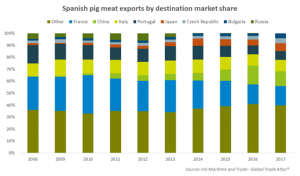 Spanish pork production has gone from strength-to-strength in recent years. In December 2017, the pig population was recorded at nearly 30 million head, almost 10 million higher than it was 20 years ago according to data from Eurostat. Spain now has the largest pig herd in Europe, built on 2.45 million sows.
Pig meat exports to other EU countries in the first six months of the year amounted to 560,000 tonnes, a 6% increase on the first half of last year. Trade with the EU constitutes 65% of Spain's exports, down from around 90% ten years ago. This reflects the fact Spain has particularly grown its exports to China and Japan, and has been successful in diversifying its markets since the closure of Russia to imported pork.
After Germany, Spain is China's second biggest source of imported pork, and the third biggest supplier to Japan, after the US and Canada. Having said that, exports to China this year have been lower by 2% (2,300 tonnes).
Exports to France, the largest market for Spanish pork, grew by 3.5% (4,600 tonnes) to 137,000 tonnes. Shipments to Japan grew by a more substantial 17% to 65,000 tonnes, and by 29% to South Korea, which received 39,000 tonnes. Spanish pork has also been increasingly finding its way into Eastern Europe, with growing trade to the Czech Republic (+62%), Poland (+22%), and Romania (+30%); one benefit of the lower prices is perhaps easier opening of new markets.
In the week ending August 19, the Spanish pig reference price was €153.12/100kg, over €23 lower than a year ago. The average price so far this year has been just below €140/100kg, 12% lower than during the same period last year.