20 years on from the unforgettable events of 1998, former Pig World editor Digby Scott, one of the central figures at the time, recalls how the industry fought back in the face of a desperate situation. This article appeared in the September issue of Pig World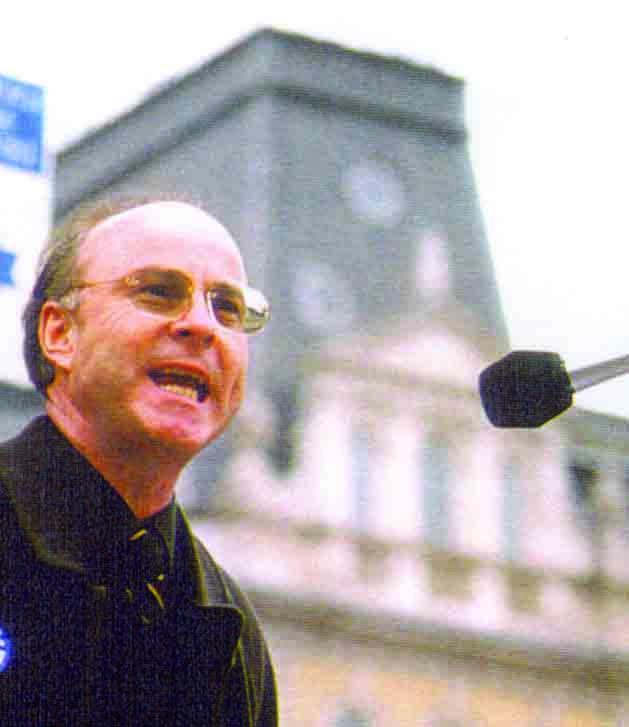 As NPA's 20th anniversary approaches in a blaze of glorious nostalgia, let's be careful not to rewrite history. Was the whole British pig industry really united against a common foe? Well no. It wasn't like that.
It's no good pretending NPA was an instant success, either. Before that could happen we needed an election so British Pig Industry Support Group activists could dislodge the effete old guard. There were staff changes too.
But it was worth it. Look at the awesome organisation we've got now. NPA is legendary in farming, retail and government circles for its lobbying and campaigning potency.
Even today we mustn't discuss some of our successes. They were brokered behind closed doors, as government officials struggled to find ways of side-stepping Europe's more absurd strictures.
So thank goodness BPISG refused to lie down and die the minute NPA became the industry's Single Voice in 1999. And let's hear it for Stewart Houston, who had the unenviable task of bridging the chasm between the two organisations.
I remember him calling me late one night, not knowing whether to laugh or cry. A member of the former NFU pig committee had just told him grudgingly: "Well done Stewart… but we'lltake it from here."
Well that wasn't going to happen. Not when we had the likes of Godfrey, and Gill to fight our corner at Shaftesbury Avenue. Sadly, they're no longer with us. I miss them more than I can say.
And it was never going to happen whilst BPISG had producers of the calibre of Meryl Ward who almost single-handedly, and in direct opposition to NPA, took Government to Judicial Review over unfair treatment of the pig sector.
Okay, we didn't win. But it cemented our reputation as an industry no longer prepared to be trifled with.
Why are supermarkets so willing to engage with farmers today? I'll tell you. It's because BPISG and Farmers For Action taught them some manners. And only a fool would deny it.
Colonel Longthorp explains it succinctly on the 'Our Roots' website at voteNPA.co.uk.  'Just as the supermarkets dictated price and purchasing policy because they could, so too BPISG in order to even the David-and-Goliath odds, shut down regional distribution centres, because they could.'
One night a director of one of the Big Four used language so foul during midnight discussions, Longthorp stomped off in disgust.
'I told police I wouldn't talk to someone who was clearly a bully and used to getting his own way and the regional distribution centre would remain blockaded until such time as he calmed down.'
There were times when women proved far more ferocious than men. My ears are still ringing from a blistering attack from one of the high-ups at Immingham Docks.
And when, in a press release, I foolishly forgot to acknowledge Waitrose as retailing's emerging saint, the dressing-down I got from Heather Jenkins made my eyes water. A few years later I successfully proposed her for the David Black Award. She'd be DameHeather, if I had my way.
BPISG was a formidable organisation. It used direct action and robust PR to achieve its ends. It couldn't stop the collapse of hundreds of pig enterprises. Of course it couldn't. But it taught consumers about provenance and it laid the foundations for the more sophisticated pig industry we have today.
And for a too-short spell, it gave us BPEX, and the exclusive services of Sloyan-the-Strategist. That was definitely a good thing.
Perhaps more than anyone, I understood and appreciated the role played by Houston. He shielded us from all that flak from behind our own lines, from people who thought our actions were in terribly bad taste and would spook consumers.
They meant well, no doubt, but…
We can hardly praise MLC, Farmers Weekly and Pig Farming for their support. We can record our grateful thanks, however, to the Yorkshire Post, ITV, BBC (particularly Look North) and Channel 4. And in particular we remember the close involvement of a young reporter on Farmers Guardian.
I was delighted, years later, to help persuade Alistair Driver to jump ship and join the pig industry full time as NPA's comms chief and Pig World editor. That's another good 'un in the bag. And if he alters one word of this article… well he'd just better not, that's all.
There are others who come to mind as I write this piece… Persey, Proctor and Baxter of BPISG's provisional wing. And the allied industry companies that specifically supported Pig World through the lean times. We haven't forgotten.
Yes, maybe you would want a long spoon before supping with hard-man Hilliard, but why do you think he had a full-page advert for the Malton Code in Pig World every month? It was to help keep us going, so we could continue our work with BPISG.
Did I mention Robert Persey? Do you remember Robert? He ambushed Tony Blair and told him, in his hesitant middle-class English, how pig farmers had been stitched-up by retailers, and how ineffectual government ministers had been.
'I understand,' said Blair. 'Leave it with me.' Shortly after, we got the outgoers' scheme. It's a weird thought, but maybe Blair was one of the few people in that horrible administration who wasn't fighting a class war against farmers and the countryside.