More details are gradually emerging about potential funding opportunities for pig producers under the new agricultural policy being developed for England.
The EU's Common Agricultural Policy (CAP), while providing a vital stable income for some farmers, currently in the form of Basic Payments, has always been deeply flawed.
With its bureaucracy and restrictive conditions attached, including the much-derided greening payments, plus well-documented delivery issues, the policy has been derided for failing to deliver for taxpayers and the environment, while being selective in its benefits for farmers. Pig and poultry farmers, historically excluded from the direct payment scheme, have benefited less than most.
Alongside direct payments, the 'Pillar Two' pot provided funds for environmental schemes on farms, alongside a whole raft of other schemes for farmers and rural businesses, but was very much the secondary element.
Brexit, amongst all the varied implications for farming, has provided an opportunity for a complete overhaul. Indeed, the new domestic policy in England represents a radical overhaul, moving the policy over a seven-year Agricultural Transition to one based on 'public money for public goods'.
With it comes all sorts of question about the direction the Government is taking agriculture in and whether farmers' competitiveness will be enhanced by having 'world-leading' standards and a more sustainable production or damaged in competition with producers still receiving direct support. Trade policy must reflect domestic farm policy.
For a previously unsupported sector, there will be new funding opportunities that could support business development, with producers who keep pigs alongside other farming enterprises, particularly arable land, having more options.
Seven-year transition
The seven-year transition gets under way this year, with the first phased reductions in Basic Payments seeing cuts of 5% on payments up to £30,000, increasing in stages to 25% on payments of £150,000 or more. The reductions will increase each year until Basic Payments disappear altogether in 2027.
The money released will fund the Environmental Land Management (ELM) scheme and schemes to boost farmers' productivity and improve animal health and welfare under the public goods agenda.
Sustainable Farming Incentive
Defra has unveiled more details of the Sustainable Farming Incentive (SFI). One of three ELM schemes, it will reward farmers and land managers for sustainable farming practices.
For example, farmers might be paid to manage and plant hedgerows to provide year-round food, shelter and breeding cover for birds and insects, or take actions to boost the levels of organic matter in soils.
But while this scheme will be of interest to producers whose pig businesses are part of broader farming operations, the opportunities for outdoor producers appear to be limited.
Expressions of interest for producers wishing to pilot the scheme opened from Monday, March 15. Farmers will only be eligible if they receive Basic Payments Scheme payments and are registered on the Rural Payments Agency system, meaning some pig producers will be excluded. That will be the case until the schemes is fully rolled out in 2024, according to NPA senior policy adviser Charlie Dewhirst.
Land parcels can only be entered into the pilot that do not have an existing agri-environment agreement on them.
Successful applicants for the pilots will enter into a pilot agreement from October 2021. The full scheme will be launched in 2022, with full roll out in 2024.
There will be eight standards farmers can choose to join in this first pilot, including some specifically for the arable and horticultural sectors, alongside standards for grassland, soil, hedgerows, woodland and waterbody buffers. Within each standard there are three levels for participants to choose from – Introductory, Intermediate and Advanced.
Payment rates will be set at broadly equivalent levels to Countryside Stewardship payments, but will be updated for the full launch of the scheme from 2022, following consultation with farming groups, Defra said.
The SFI is the first of three schemes that will reward farmers and land managers for delivering public goods like biodiversity, cleaner water and air, improving soil and carbon reduction on their land. Further information on the Local Nature Recovery and Landscape Recovery schemes, will be released later this year.
Mr Dewhirst said NPA would be working with Defra to try iron out various barriers to pig producers being able to access this, pointing out that outdoor producers can deliver significant environmental benefits.
Slurry Investment Scheme
The pilot for the Slurry Investment Scheme (SIS) will be introduced in 2022 to help reduce pollution from farming and contribute to Defra's 25-Year Environment Plan and UK net zero commitments.
It is also intended to help farmers prepare for increasingly effective and comprehensive enforcement of the rules around slurry management over the transition period, according to NPA policy services officer Lizzie Wilson.
It is proposed that the funding will be provided for a proportion of one off capital costs of new stores and impermeable covers and associated equipment, although payments will not be made for future maintenance or planning costs.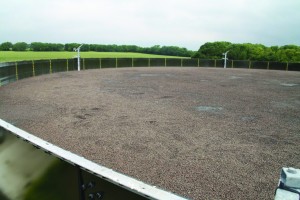 Successful applicants would be subject to conditions, such as ensuring they had received relevant environmental advice and that they were providing data on the effectiveness of the new stores.
Defra believes increased storage capacity significantly helps to avoid spreading during high risk periods, preventing pollution incidents.
"In order to future-proof public investment and support the sector in reducing its environmental impact, Defra stated that they will only want to invest in stores which are sufficiently large enough to contain at least six months' slurry production and are covered with an impermeable cover," Mrs Wilson said.
Various stakeholders, including the NPA, have been contributing to ongoing discussions about how the scheme will look. Defra plans to publish details, following consultation, in the second quarter of 2021 and expects to be making funding available from Autumn 2022/23.
Farming Investment Fund
The new Farming Investment Fund will provide targeted support to businesses to help investment in equipment, technology, and infrastructure that will improve their productivity and deliver environmental and other public benefits.
The pilot for the scheme, which could deliver benefits for pig producers is due to open for applications in December this year.
Payments will be for a proportion of the total cost of investment and the fund will be split in to two strands for low and high value investments:
The Farming Equipment Technology Fund, which will offer small grants to contribute towards the purchase of a list of specified items.
The Farming Transformation Fund, which will provide larger grants towards the cost of more substantial investments in equipment, technology or infrastructure, with the potential to transform business performance.
The sort of investments covered include on-farm water storage infrastructure, robotic or automated technology, items to improve animal health and welfare and equipment for processing agricultural products, which may help farmers to streamline or diversify their businesses.
The fund will include the provision of some slurry equipment from late-2021.
R&D
From 2022, farmers will also benefit from an increased investment in agricultural Research & Development that Defra hopes will help drive innovation.
This will see farmer-led R&D projects to trial and demonstrate the viability of new and existing technologies to address current on-farm productivity challenges, as well as research into how agriculture can meet its longer term goals to reduce greenhouse gas emissions and achieve net zero.
Example could include trialling new feed additives or demonstrating the integration of autonomous farm machinery.
Animal Health & Welfare Funding 
An industry-Defra group, chaired by Stewart Houston, is currently developing a Pig Health and Welfare Pathway, designed to deliver a holistic industry-wide approach to improving the national pig herd's health and welfare, backed by funding under the new domestic agricultural policy.
The initiative has various components, including:
Veterinary visits – considered essential to improve health & welfare.
Grants – small and large capital grants to part-fund investment, supporting health and welfare standards above the legal baseline.
Payment by Results – incentivising higher health and welfare beyond the statutory minimum. This could include payments for providing nesting with farrowing crates, non-docked pigs with low levels of tail biting and bedded systems.
Endemic diseases – supporting industry programmes to control and eradicate endemic disease.
The Pathway is due to launch in April 2022, commencing with a registration scheme and, over the rest of the year, commencing with support for vet visits and potentially offering capital grant, health and welfare management planning and diagnostic testing grants
In 2023/24, the plan is to offer further support for endemic disease control and phase in the payments-by results initiative.
This article was taken from the April Issue of Pig World magazine, which you can subscribe to here.