A Gloucestershire pig farmer has highlighted the problems facing many producers on farms at the moment. 
Increased restrictions on EU exports combined with the impact of COVID-19 in pork plants on resulting bans on exports to China mean pigs are often staying on farms for longer than would normally be the case and are getting too big.
A recent NPA survey showed 86% of producers reported having pigs 'rolled' by processors, with 44% saying this was a regular occurrence. Average carcase weights under the SPP sample recently topped 90kg for the first time and were  nearly 5kg ahead of a year ago in early February.
The current problems facing the industry have been widely reported in the media and, this morning Sophie Hope (pictured during a previous TV appearance), who runs the pig herd at Alexander and Angell Farms, told  BBC Radio Gloucestershire that with limited space, this is having a detrimental effect on farmers and the welfare of their livestock.
"We actually have to produce our pigs to a certain specification to receive the maximum amount of money, for those pigs," she said.
"Pig farming is very much a continuous process, there are always younger ones coming up behind […] which means we run out of space and obviously this has welfare implications."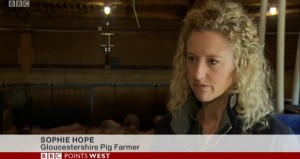 You can listen to the interview HERE, 2 hours 39 minutes into the show. 
The NPA has said that there are roughly 100,000 pigs stuck on UK farms at the moment, and with farmers having to meet Red Tractor standards, things are becoming increasingly difficult.
British pig farmers are already running at a loss and with the combination of a poor harvest in 2020 as well as pigs staying too long, many farmers are facing an increase in their feed bill.
The 'perfect storm' hitting the market is only further exacerbated by the presence of imported pork on UK supermarket shelves. Find out more about this here.