More than a dozen people from pig businesses across the country have already made use of AHDB Pork's Technical Managers Scheme (TMS) with positive feedback being given by those who have completed the programme.
"All of us have pulled something out of the training, which has been very useful," said TMS member Calum Brown, who works at Bridge House Farm, Long Buckby, a nucleus unit for PIC.
Another "trainee" added: "It's really good, I'd like to see more of it."
The TMS is aimed at current managers and those who are looking to become managers in the future. While the training obviously focuses on pig unit management it also looks at business skills and managing people.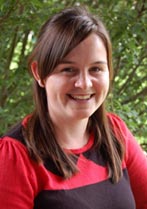 "Having people who are in, or looking to move to, supervisory roles worked really well as they had a lot in common when it came to discussions about the training and were learning from each other," said AHDB Pork's skills development co-ordinator, Sam Bowsher (pictured).
"Calum had been doing the Certificates of Competence at the same time as TMS and said he found the two complemented each other perfectly."
In addition, as part of the scheme, all the trainees had to complete a work-based project.