This week's Slaughter Pig Marketing Summary, from Thames Valley Cambac, reported that trade continued to drift along with little direction offered by any of the majors. One processor cut the kill to four days in advance of the Bank Holiday.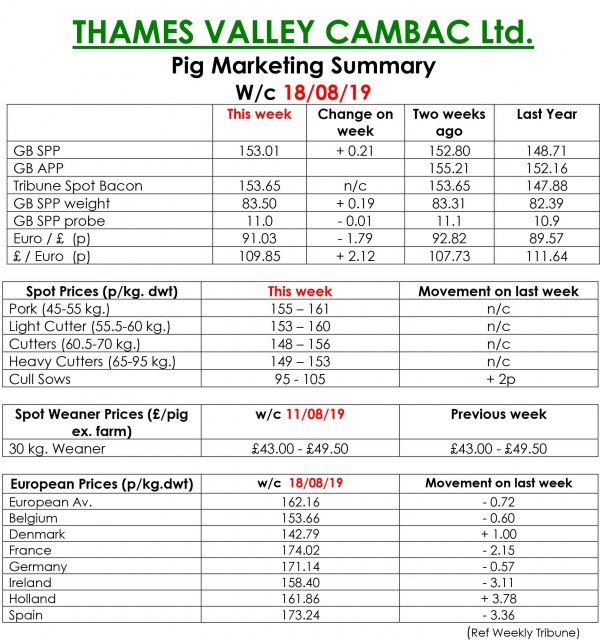 Supply was little changed, with many producers more focussed on beating the weather with harvest and straw leading. All prices were similar, and contract price contributions were unchanged.
Demand remained lacklustre, with poor retail uptake being reported. The hope is we could possibly export our way out of this malaise, with reports that more plants are being approved for exporting to China.
The fresh meat market remained steady, but with continued reports of higher priced imports, there could be scope for improvement soon. The cull sow market added another 2p, with good competition seen from the exporters. European prices continued to fly with Holland and Denmark up 7.5 and four euro cents respectively. Quotes in sterling were tempered, however, by a weaker euro that ended the week down 1.79p at 91.03p.
The Weaner Marketing Summary, for week commencing August 11, reported that demand remained fickle, and supplies continued to increase with 7kgs weaners especially plentiful. Fatteners were cautious however, with many worried by the continuing struggles in the finished pig market.
The prices announced by the AHDB saw the weighted average for a 30kg store pig quoted at £54.46, and the weighted average for a 7kg weaner fall by 13p to £39.67p.