UK clean pig slaughter reached 909,100 head in July, up 3% on the same month in 2018, although July 2019 did have an additional weekday compared to last year.
Defra has revised the June slaughter figures down in its latest data release, to 809,400 head. This is now 3% lower than a year earlier. Clean pig slaughter for the year so far now totals 6.15 million head, just 0.4% more (21,700 head) than the same period last year.
Clean pig slaughter in July recorded year-on-year increases across all UK regions. Scotland saw a 24% increase in slaughter to 30,000 head. This is likely because of a reduction in throughput last year due to a national shortage of CO2, which particularly affected a major Scottish plant.
England and Wales reported a 2% increase to 732,500 head, while Northern Ireland reported a 6% increase to 146,600 head.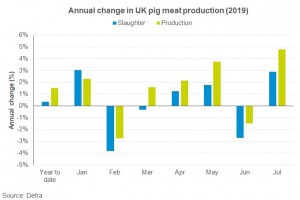 Carcase weight
Finished pig carcase weights in July averaged 83.9kg, over 1.8kg heavier than July 2018. Though, weights still recorded a seasonal decline compared to June.
Adult pig slaughter
Slaughter of sows and boars in July totalled 19,100 head, 7% less than the same month in the previous year. This is not surprising, as cull rates were relatively high last year, reflecting an older breeding herd.
Production
Pig meat production for July reached 79,100 tonnes, 5% more than the same month last year. As such, production in the year to July now totals 540,800 tonnes, 2% more than the same period last year.