Russia has returned to being a net importer of pig meat. In the year to May, imports of pig meat (including offal) increased by over 50% on the year, to 63,600 tonnes.
While exports have risen, this was not enough to compensate for the rise in imports. As such, in the first five months of this year, Russia imported 15,300 tonnes more than it exported and so returned to being a net importer of pig meat.
The majority of the uplift was driven by an increase of imports from Brazil, which reached 26,300 tonnes in the first five months of this year.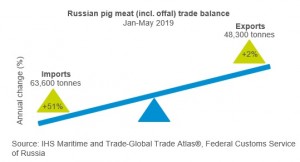 Russia banned Brazilian pig meat imports between December 2017 and October 2018. This followed the detection of traces of Ractopamine, a feed additive permitted in Brazil but banned in Russia, in some shipments.
While Brazilian imports have more than doubled compared to last year, volumes remain around a quarter of the levels prior to implementation of the ban. This is not surprising, as only a handful of Brazilian suppliers have been approved to send product to Russia.
Elsewhere, imports from Chile and Argentina have picked up, reaching 15,200 and 5,800 tonnes respectively. However, shipments from Belarus have fallen by over a quarter (-4,300 tonnes).
The product mix of exports has shifted a little this year. While offal still accounts for 40% of the exports in volume terms, this has actually fallen by three percentage points compared to the same period last year. Meanwhile exports of pork have captured the market share, and now account for 33% of Russian pig meat exports.
The increase in pork exports is likely a reflection of the expanding production. The USDA expect Russian pork production to increase by 3% on the year, to 3.25 million tonnes cwe.