UK clean pig slaughter in June was around 1% lower than the same month in 2018 at 823,800 head, new figures reveal. However, as there was one fewer weekday in the month this year, the rate of slaughter is likely to have been higher.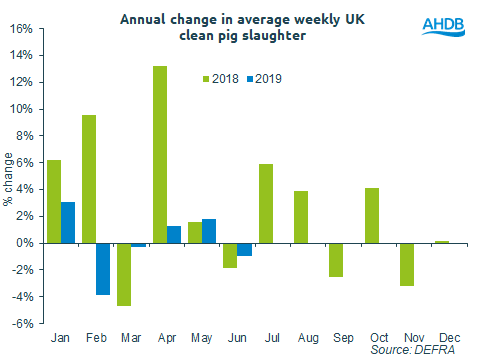 Looking at the UK regions individually, clean pig slaughter in June recorded the following year-on-year trends:
England & Wales: 663,000 head (-1%);
Scotland: 28,000 head (+6%); and
Northern Ireland: 133,000 head (no change).
Slaughter during quarter two, therefore, totalled 2.63 million head, slightly higher than last year.
AHDB said this is similar to its April forecast (2.59 million head). Difficulties with herd performance last year were expected to limit slaughter numbers this spring. Pigs have also been taken to heavier weights, delaying some marketing.
For the first half of the year, the UK clean pig kill stands at 5.26 million head, virtually the same as in 2018.
Finished pig carcase weights for June averaged 83.9kg, over 1kg heavier than in June 2018. Though, weights still recorded a seasonal decline compared to May.
There was a 13% annual decline in the number of adult sows and boars slaughtered in June, to 18,200 head. This meant the quarterly figure stood at 58,700 head (-10%). Adult pig slaughter was expected to be lower this year, with a high cull rate in 2018 leading to a younger herd. However, the decline is a little larger than we forecast, perhaps reflecting producer optimism around rising pig prices.
AHDB said: "Altogether, pig meat production in the month totalled 71,900 tonnes, virtually the same as a year earlier. The half-year figure comes to 462,800 tonnes, a slight increase in 2018 (+1%)."