Based on analysis of export prices from the four main global exporters (the EU, US, Canada and Brazil), global pork prices have been at an elevated level this year.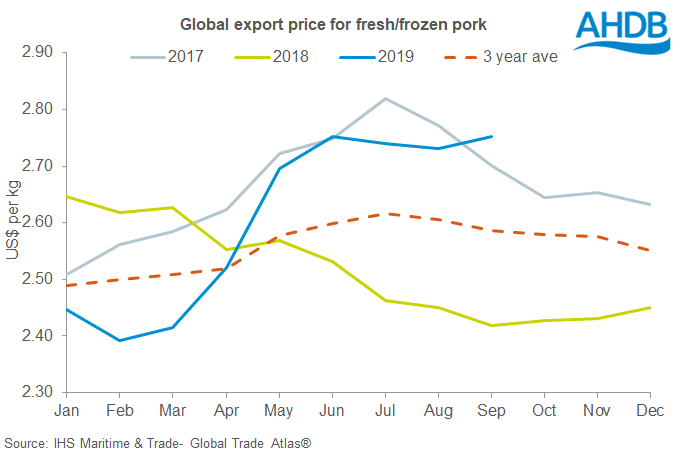 Prices rose sharply in March and April as the impact of ASF began to drive import demand in China. Global supplies have tightened, due to falling Chinese production, and this has also driven demand for internationally traded pork.
Prices have remained at around $2.75/kg since June, over 10% higher than a year earlier. Meanwhile, the amount of pork traded by the four main suppliers has been at record levels for much of the year. In the third quarter of 2019, volumes were 17% up year-on-year.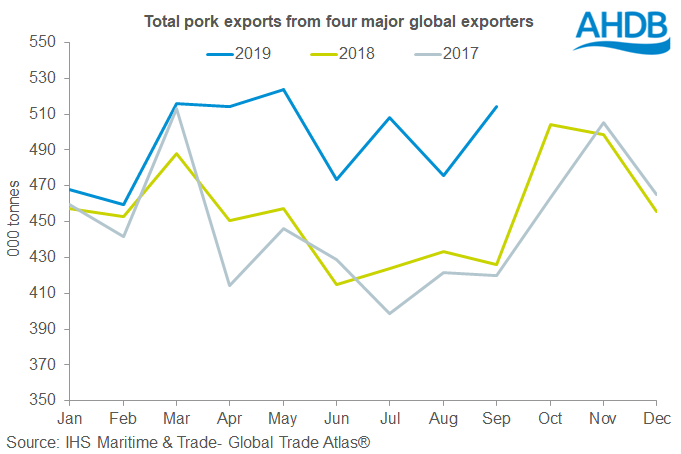 Although prices are high, they are not at record levels. Global trade barriers have been inhibiting prices in some regions; US shipments still officially face a 72.5% tariff on shipments to China, and Canada was banned from accessing the Chinese market from late June to early November.
The Chinese ban had a particularly strong effect on Canadian export prices, which fell from US$2.86/kg in June to $2.64 in September. US prices have also fallen, as expanding US production outpaces export potential. In contrast, Brazilian prices remained stable as exports to China remain unchallenged by politics. Prices averaged $2.28 in the third quarter and had risen as high as $2.41 by November.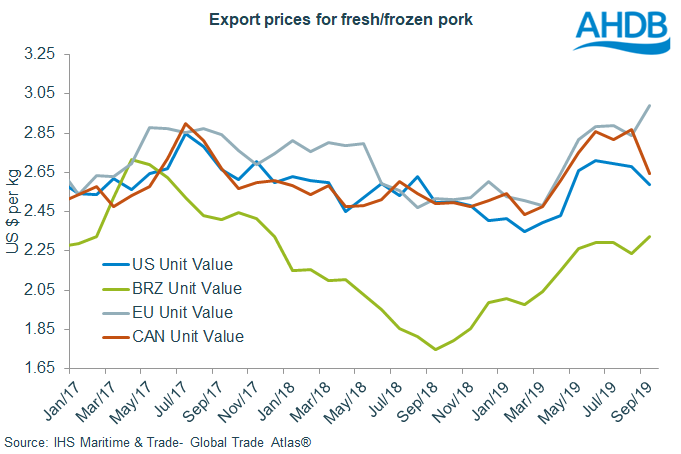 EU exporters are the primary traders seeing the benefit of higher prices. This region is currently best placed to supply the Chinese import market. In quarter three this year EU pork exports averaged $2.90, 15% higher than last year. The euro price is over 20% higher.
The EU is normally the highest-priced exporter, but by September, it was a noticeable 9% above the global average. This might not be sustainable if US access to China were to improve, particularly as Canada is now able to supply China again.