EU pig slaughter figures, published by Eurostat, show a 1.3% increase in September when compared with the same month in 2018, at 20.9 million head. September 2019 did have an extra working day though.
Pig meat production in the EU was 2% higher than a year earlier at 1.91 million tonnes, suggesting pigs were slightly heavier this September. It may be that this pick up in supply has contributed to the relatively stable European prices of late.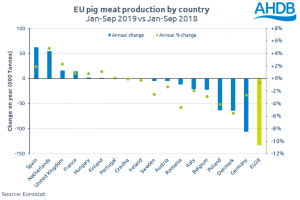 Countries showing the biggest increase in production in September were Spain (+14,000 tonnes), France (+12,000 tonnes) and the UK (+5,500 tonnes).
AHBD lead analyst Duncan Wyatt said: "This brings year to date production for the region to 17.6 million tonnes of pig meat, a 1% decline (134,000 tonnes) decline on last year. Along with increased export demand, this fall in supply is behind much of the rise in pig prices in continental Europe in particular."