The Morgan sisters have become familiar faces and voices on TV, radio and right across the media, articulately and passionately making the case to Save GB Bacon. But the fight is nowhere near over, they told Alistair Driver, who joined them on farm for yet another interview at the height of the publicity in October
As we finally walked away from the crowded pig shed where the Morgans had just done yet another live TV interview, the conversation, as I guess it often does at this time of year, turned to Strictly. 
After BBC Breakfast presenter Dan Walker's latest turn was analysed, his colleague, the interviewer, who had been on the farm since before 5am, revealed how much she would love to appear on the programme. "I think the Morgans have got about as much chance of getting on Strictly after all this," I suggested. 
It didn't quite come out as intended, but everyone (I think) knew what I meant. Kate and Vicky had, after all, by then appeared on just about every news and current affairs programme and publication in the country, and many beyond.
When I told friends and family why I was heading to Yorkshire very first thing on a Monday morning, they all knew about the Morgan sisters. "Oh, yes, I've seen them on the news, they're really good," was a typical response. They are even getting recognised when they are out and about locally. 
The sisters, who have been regulars in the media over the years, have been making the case for action to 'Save GB Bacon' articulately, passionately and often, emotionally, most notably when Kate pleaded on the Victoria Derbyshire show for Prime Minister Boris Johnson to 'come and see my farm' and 'have the guts to stand up and talk to us'.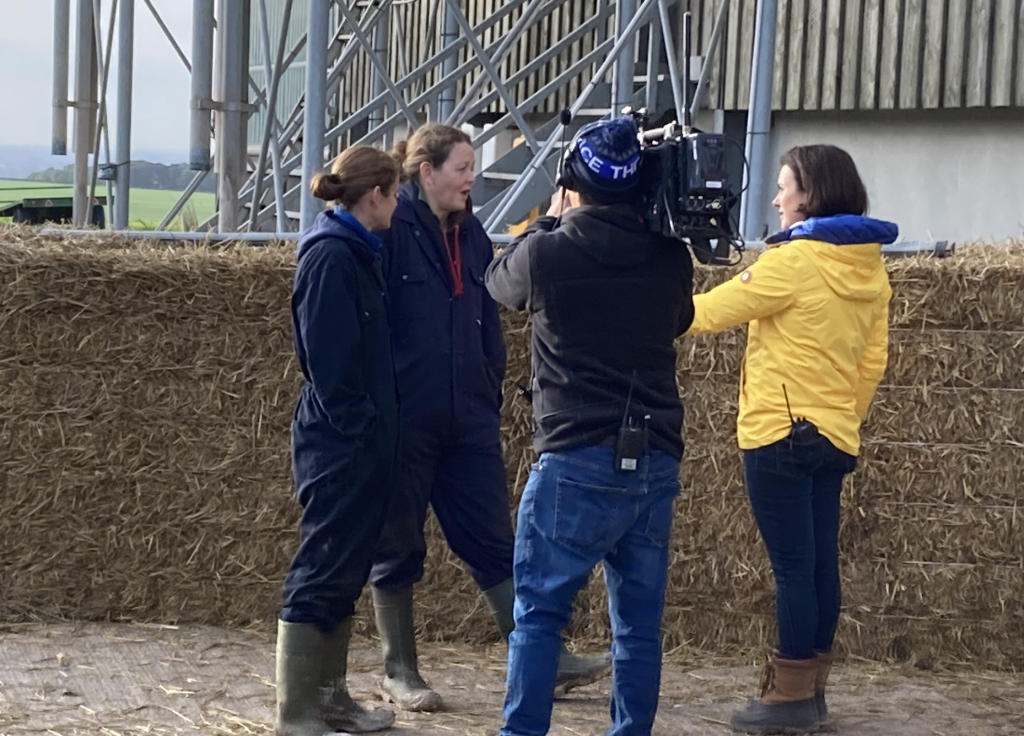 Instead, the day after the Prime Minister's dismissive remarks about the pig sector's plight at the Conservative Party Conference, the sisters led a peaceful but hugely effective industry demonstration in Manchester that generated more mass media coverage.  
They have thrown everything into the Save GB Bacon campaign, recently launching the #BiteIntoBritain social media campaign, while also trying to manage a pig business bursting at the seams and haemorrhaging money, not to mention running young families. 
It has taken its toll. "There have been times when we have been asked to do interviews and I just haven't wanted to do it," Vicky said. "But we have been so desperate to get the message out." 
At the time of my visit to Yorkshire, it seemed everyone had got the message, apart from the Prime Minister, who had just nipped off on holiday, and his Government. 
"It is so frustrating – the media coverage has been fantastic, but the Government is ignoring farmers. Surely they can't allow thousands of pigs to be slaughtered?" Vicky said. 
Kate added: "It makes you wonder if the Government wants farmers in this country – if they don't it's fine, but they need to tell us and we'll pack up and do something else."
Time running out
The Morgan family, sisters Vicky, Kate and Rachel, who works in the office, father David and mother, Sue, keep 1,700 sows on the main farm, with 25 finisher units, also buying in pigs to finish from 7kg. They usually finish around 90,000 pigs per year, but for the last three months or so, like so many others, have had contract numbers from their processor cut by 25% a week. 
They have just about coped so far, mainly because they usually leave two weeks between the end of batches to give time for thorough cleaning out before the next one comes in. 
"That has given us some leeway, but we are now running out of space," Kate said. "We're getting to the point where we are emptying out and filling straight up again, without washing out. Soon we won't be able to wean on the breeding herd because we haven't emptied the yard. I've no idea how much more time we've got. But we will not kill pigs on farm.
"The whole business is under a lot of pressure – the feed mill is having to make more feed and all our staff are working doubly hard."
Meanwhile, bigger pigs requiring more expensive feed are selling for lower prices. Deadweights are averaging over 100kg, compared with the typical 86kg. 
This is a scenario that is being played out on farms across the country, and in some cases, the situation is considerably worse. How long can it be sustained? 
"It is manageable if you think there is an end in sight, but at the moment, I can't see one and it feels unmanageable," Vicky said. 
Their processor has told them labour shortages and reduced throughput might persist until the spring. "Even if people stop serving pigs now, it will take 10-12 months before we see the impact of that. Lots of people I have spoken to are going to make some tough decisions," Kate added.
Not our fight
The situation is made even worse by the financial pressures producers are facing, with record feed costs hitting margins all year, now compounded by plummeting pig prices due to the issues in pork plants and the impact on the SPP of 'distressed kills' in some plants for export with minimal butchering at rock-bottom prices. 
The Morgans are frustrated that while producers have been fighting furiously for action to help processors address labour shortages, they appear to be taking all the pain. 
"This is not farmers' fault – it is not our fight! We have done everything that has been asked of us – we pay good money, we have good facilities and we've look after our staff," Vicky said. 
"It is the processors who have not got the staff – did they do enough to prepare for this? Are they doing enough to recruit staff now?   
"Some of the big processors and retailers post huge profits – millions and millions every year. They are going to come out of this financially absolutely fine.
"But we are the ones that are taking the hit emotionally and financially, we have got the pigs backed up on farm and we are the ones getting paid low prices to ease the backlog.
"We're losing money hand-over-fist, but we're producing the product they're selling to make their profits. We need to sort out the supply chain."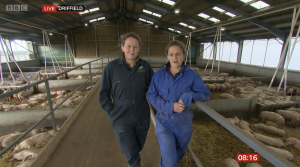 Kate added: "The retailers could do much more – they could easily just demand British, but they are continuing to bring in cheaper imports. We have had so many messages from the public asking how they can help, and we've been telling them to buy British – Red Tractor and RSPCA Assured." 
Soon after my visit, things did start to move, and by the end of that week, the Government announced its support package. While this was welcomed and the Morgans, NPA and others were rightly praised for bringing about such a dramatic change of heart in such a short time, when I spoke to Vicky later in the month, she was not optimistic that the measures would make an immediate or even medium-term impact. 
"We are still not clear when we are going to get more people in the plants. People are hanging on hoping it is going to help, but I don't have any faith that is going to happen. 
"I'm angry now, whereas before I was upset. I'm angry that nothing is happening and we're still the ones that are going to take a complete beating from this financially."
United industry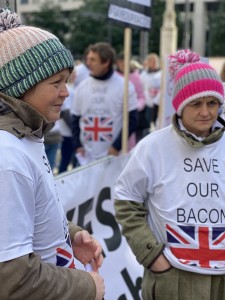 There has been one positive to come out of this sorry situation. The industry, just as it did in the dark days of the late-1990s, has come together to fight for its future. 
"The pig industry is very united. We have all come together and we are fighting the battle together," Vicky said. "Even in Manchester, people who couldn't make it were there in spirit, supporting us on social media and sending messages. 
"We have got the public behind us, we have shown that we are human and shown people around our farm. The media know where we are and are still very interested in the story. The whole agriculture sector is behind us as well. 
"But we haven't saved GB bacon, and there is a lot more to be done. We now have to wait and see what comes through from the promises of November 1. But if nothing changes, it will be time to start again and, this time, we will have even more people to shout about it. 
"The industry is not going to go quietly – it's not going down without a fight. Definitely."
This article appeared in the November issue of Pig World.