Worcestershire-based M&M Timber is so confident in the long-term durability of its Agricised timber posts that they come with a full 15-year warranty and a unique online customer registration scheme.
The company's Agricised timbers have already made a significant impact on the fencing industry, and further investment in additional kilns and machinery at the company's manufacturing plant is set to double production output this year.
The posts were the result of years of research aimed at offering top performance without the inherent high cost penalties that have previously forced landowners to settle for lower-grade materials.
M&M Timber's Agricising process involves purpose-designed incisor machinery, developed and manufactured in the UK to the company's requirements and is said to be the most technologically advanced of its type in the country. The process creates a one metre long ground contact band of uniform incisions, enabling preservative treatment penetration to meet Class 4 and BS8417 ground contact zone requirements. The process also serves to ease surface tension and reduce cracking.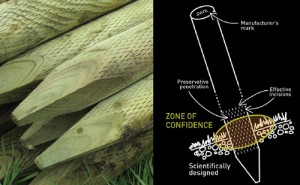 For more information call 01299 832611, or visit: www.mmtimber.co.uk