The recent NPA elections saw Richard Longthorp stand down as the association's chairman and Howard Revell leave the same position on the organisation's Producer Group. Pig World spoke to the men who are taking their places, Richard Lister and Phil Stephenson
NPA chairman – Richard Lister
> North Yorkshire
> 3,300 sows
> 2,000 finishers/week
> 5,500 acres arable
There's little doubt that filling Richard Longthorp's boots as NPA chairman won't be easy, but Yorkshireman Richard Lister is up to the challenge, writes Graeme Kirk. Born and bred into a farming family based not far from the A1, north of York, the 51-year-old remembers getting out and helping on the farm as soon as he was able, and he returned to work in the business when he Newcastle University with a degree in agriculture in the mid-1980s.
There was little opportunity to specialise in degree courses back then, and Richard recalls there being little pig content, but he did know that was the part of the family's farming operation where he wanted to concentrate. There had been pigs around since the late 1960s when the farm was a multiplier unit for PIC, and the pig business just grew from there.
"I was always more interested in the pig side than the arable side," he said. "My brother, David, was more interested in the arable side, so it all fitted together quite nicely."
Today, the Lister family runs about 3,300 sows on four different breeding sites in Yorkshire and Nottinghamshire. On top of that there's a combination of in-house and contract finishing that sees the business dispatch about 2,000 pigs for processing every week. Interestingly, although Richard sends some of his own weaners away for finishing under contract, he also takes weaners from Karro's Scottish operation himself for contract finishing.
"There was a business opportunity with Karro and we were in a position to take it on," he said.
The Lister family's livestock operation also includes 220 suckler cows and a few hundred sheep, while the arable side of the business runs to about 5,500 acres.
"We grow as much wheat and barley as possible, to put through the mill and back to the pigs, while we also grow some potatoes as well," Richard added.
Richard's move to chairman at the NPA follows 12 years on the organisation's Producer Group, with six of these as chairman. He also had a three-year term as a BPEX board member.
"I think I've been fairly well involved with the industry," he said. "It's been through some difficult times, particularly the early years with the foot-and-mouth and wasting disease. So I've been here through some tough times when we lost a good number of producers."
As far as the current state of the pig sector is concerned, Richard is in no doubt that one of the biggest issues we're facing is disease.
"The big worry is African swine fever (ASF) in Europe," he said. "That rattling around there has affected trade, and it could potentially do us more damage. Then we've got PED, which is on both sides of us. It's mostly on the American side, but now in some European countries and that's a worry.
"ASF is probably the greatest worry because of the potential loss of trade, but then there are other issues that range from trying to maintain the premium for British pork to limiting the damage from new legislation on the environment and welfare – which is somewhere that the NPA really comes in to its own.
"We have an important role to play trying to negotiate reasonable legislation for producers, or at least legislation that we can manage. Brussels seems to see its role as creating more work for itself and others, and we have to try and make sure that new legislation is manageable and doesn't result in too much hardship for pig producers."
As he begins his first three-year term as chairman of the NPA, Richard is looking forward to working with the organisation's staff. "I've got a great team in Zoe, Lizzie and Georgina," he said, "and while the chairman's role has been changed to be a little less hands-on, giving more responsibility to the staff, I'll be there to support them and hopefully help guide them in the right direction.
"Things are always easier in peacetime, and it's when they get really tough that you have to show your mettle, but I'm up for that. Personally, I hope the peacetime we've enjoyed for the past few years remains, but we've got quite a lot of worries around us, including the lack of competitiveness at the moment because of currency, which is something we can't do much about. "But what we can do is get out there and make the point that we do a good job and need paying appropriately for it. It's vital that processors don't take advantage of the currency situation to put producers' businesses at risk."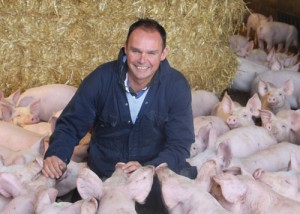 * * * * *
NPA Producer Group chairman – Phil Stephenson
> East Yorkshire
> 700 sows
> 1,450 weaners/batch
Six years after joining the NPA Producer Group, new chairman Phil Stephenson is more convinced than ever of the importance of the association and of his role as a practical voice in support of the NPA's full-time team, writes Colin Ley. He said we had a great industry that needed supporting and helping by producers in every way they can manage.
"This is particularly true of the NPA, whose staff do a fantastic job, but constantly require the backing of producers if they're to keep delivering for the industry," he added. "We're all obviously focused at farm level on prices, at present, but things would be a whole lot worse if it wasn't for the work done by the NPA and BPEX to ensure the UK's price differential with the EU is maintained."
Phil has run the family farm in East Yorkshire – established by his father and mother, Andrew and Barbara, in 1974 – since 1985.
During his time in charge, he's increased sow numbers to 700, developing an indoor farrow-to-finish system that has produced finished pigs for Cranswick on a four-week batch system for the past 15 years.
Phil is also part of Sainsbury's producer group, and he believes working with supermarket chains in the wake of "Horsegate" to strengthen the sourcing of British pork has delivered a real gain for the industry, certainly compared to what might be happening now without such efforts.
Asked if he thought producers in general appreciated the NPA's work, he said he believed most did, adding that it possibly takes a crisis to really reveal how much the association is needed.
Although he has a team of five staff working with him in the business, Phil continues to live up to his pre-election statement that he "gets his hands dirty on a daily basis". First and foremost, he's a pig producer and has been for the past 30 years, leaving him ideally placed to offer guidance to the NPA's staff team.
"I speak to other producers all the time, of course, and have a generally good feel for what's going on," he said. "We also have a broad spectrum of Producer Group members, giving us a strong base from which to address the key issues."
Voicing his frustration at another downturn in prices, he believes the fight to keep the UK's differential over the EU remains crucial.
"We must keep the pressure on processors and supermarkets to stay with their sourcing of British product," he said. "Obviously, reopening the Russian market would help massively but, in reality, there's nothing we can do as farmers to influence that process."
As for the EU's private storage aid (PSA), he's not a huge fan, arguing that stored product has to come back onto the market at some point, so there's a sense in which PSA merely prolongs the downturn.
The other major 2015 issue, he added, is the constant disease threat facing the EU, most notably from PEDv and African swine fever (ASF).
"We've all seen photographs of lorry loads of dead pigs in the US being cleared from a PEDv outbreak," he said. "Having that in the UK would clearly be traumatic. We all want to look after our pigs as much as we can and would hate to witness similar scenes here.
"It's ironic, therefore, that ASF, while possibly less dramatic in appearance, would potentially have a far greater financial impact on our industry. It remains vital that we do all we can to protect ourselves against such threats.
"While border controls can always be improved, high level producer awareness of the threats that exist has a key part to play in protecting UK herds. In that context, I believe farmer awareness of PEDv is pretty high, but I'm less sure the same applies to ASF.
This clearly needs our attention."
Having already experienced 30 years of what he calls the roller-coaster ride of pig farming, and being ready for more of the same, Phil's final comment was simple and direct.
"This is why we will always need the NPA to exist as a strong and effective body working for us," he said. "We've an excellent structure in place and a top-class staff team, and I'm happy to be able to play my part in what they're doing."