Fresh and frozen pork had a very happy Easter in terms of retail performance, according to new data from Kantar Worldpanel, while beef and lamb sales recorded a drop in sales compared to last year.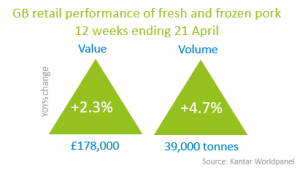 Shoulder roasting joints were the real winners in the 12 weeks to April 21. Sale values increased by 39% and household penetrations increased by 21%, compared to the same period last year. Mince also performed well over the 12-week period, sale volumes increased by 5% compared to last year.
However, the uplift was not recorded across all pork categories. Sales of bacon have suffered, with volumes falling by 6% compared to last year. Sausages and cooked sliced meats have also declined on the year.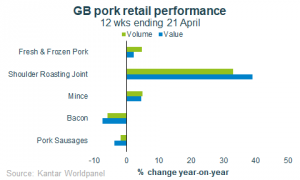 AHDB analyst Felivcity Rusk said: "The positive performance of fresh and frozen pork, and the large uplift in shoulder roast joints were almost enough to compensate for the decline in sale volumes in the other pork categories. As a result, total pig meat sale volumes only recorded a marginal decline (-0.2%) on the year.
"However, the average price per kilo for pork has fallen by 2% on the year. Therefore, is it not surprising that with relatively flat sales volumes that this had led to a 2% fall in value compared to last year."