Defra Secretary George Eustice is coming under renewed pressure to intervene to support the pig sector and address the wider food supply labour shortage issue. 
Neil Parish, chairman of the Environment, Food and Rural Affairs Committee, has accused Government of doing 'too little, too late' on labour shortages, after Mr Eustice appeared in front of his committee on Tuesday, as part of its inquiry into labour shortages in the supply chain. During the session he had asked 'how much of Rome needs to burn' before he put a plan together to address labour shortages.
During the session, Mr Eustice at one point suggested a lack of labour of labour was a 'commercial risk' for food businesses, along the lines of an arable farmers have a crop hit by aphids.
At which point, Mr Parish suggested the latter would be considered an 'act of God or an act of nature', which he suggested was not the case for 'not having having enough processor workers and not being able to slaughter your pigs'. He said labour shortages were out of farmers' control and insisted there was 'no expectation farmers would have to cover that as a commercial loss'.
You can watch the session HERE
Mr Eustice also suggested that changes to shift patterns could enable 'working mothers' to take up roles in abattoirs.
"As recently as the early 2000s, these businesses in the pork sector, beef, abattoirs, you know, would actually recruit full-time staff locally. They used to have shifts that would accommodate parents who had children of school age, so that working mothers could drop their children at school, work say five or six hours and then pick the children up," he said.
"Those types of shift patterns being displaced by different shift patterns that meant those working mothers were no longer able to work in those sectors. And we're starting now to see that adjust back.
"So we have to have some confidence that it will be possible to get some people from this country back into these sorts of roles."
Rome Burns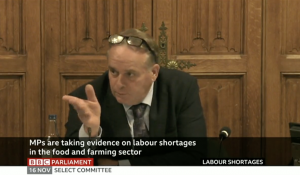 Asked whether Defra was 'getting its voiced heard' within Government, Mr Eustice insisted Defra 'always gets heard and frequently its warnings are heeded and it leads to particular interventions'.
However, Mr Parish and fellow members of the committee grew impatient at the lack of clear answers as to how the Government intended to address the situation.
"How much more of Rome needs to burn before you put some kind of plan together?" Mr Parish asked the Defra Secretary at one point. "If this is not sorted, we'll end up exporting our food industry and importing our food."
Commenting after the hearing, Mr Parish said: "The food and farming sector has been telling government since early this year about labour shortages which have caused supply difficulties.
"Government has done too little, too late on almost every front. It must face up to its responsibilities. It must create a strategy to give farmers and food producers confidence so they can continue to deliver good British food to our plates."
Spotlight intensifies again
After intense pressure in September and late-October, the spotlight eased off after the Government announced its support package in mid-October. But with no sign of the backlog easing, more pigs being killed on farm and growing questions over whether and, if so, when the support package will help, the industry and politicians are again looking for the Government to step up.
NPA chairman Rob Mutimer has written to Mr Eustice asking him to take action to ensure the Government's pig industry support package delivers on its key aim of easing the pig backlog on farms, rather than simply benefiting processors.
Commenting on Twitter today, Lincolnshire MP Sir Edward Leigh said he had learned from pig farmers in his constituency that the backlog is getting worse, despite the recent measures, and called on Mr Eustice to meet the NPA and 'act decisively soon'.
Responding Kate Morgan, one of the drivers behind the Save GB Bacon and Bite Into British campaigns, said: "We are in a dire situation, George Eustice says he's talking to industry. Well he's not talking to pig farmers, we are not the same as processors. Processor are not losing money or having to cull pigs on farm they are pushing their problems onto us the farmer, it needs to change."