EU pork exports rose by 37% in September, compared with a year earlier, to 236,600 tonnes. This was the strongest growth recorded during a month in 2019 far.
The value of total EU pork exports in September was up by almost 75% compared with the same month last year, at €642.5 million.
Growth in exports to China dominated the market. Volumes more than doubled year-on-year to 138,400 tonnes, easily counteracting a drop-in shipments to the Hong Kong market (-1,700 tonnes). The African swine fever crisis continues to drive significant Chinese import demand.
The average price of exports to China has continued to rise because of this, and increasingly compares to traditionally higher value markets.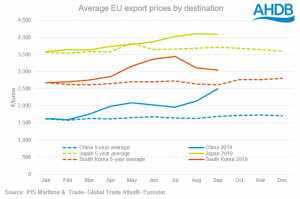 EU pig offal exports also performed strongly, as volumes rose by 13% year-on-year to 117,900 tonnes. The Chinese market continues to dominate, with volumes up by 29%. The value of offal exports rose by 43% in the latest month, to €169.9 million.