Sales of outdoor-bred (ODB) pigmeat fell by more than 11% in the year to June, according to Kantar data, as the cost of living crisis resulted in big shifts in consumer habits.
Organic pork has taken an even bigger hit, recording a 17% volume reduction in the year to June 11. These declines significantly outpace volume falls for total pigmeat and primary pork of 3% and 4% respectively.
Over that period, volumes of ODB accounted for just 8% of the total pigmeat market, compared with 14% in the year to June 12, 2022, which was up from 12% in 2021.
Price, unsurprisingly, appears to be the driver behind the decline, AHDB retail and consumer insight analyst Charlotte Forkes-Rees said.
ODB prices rose by 15% to £10.70/kg in the year to June 11, while primary and total pork prices saw similar increases, but their lower average price points at, £5.63/kg and £6.71/kg, meant they lost fewer shoppers. This was help by them being more favourably priced than overall meat and fish category, which averaged £7.22/kg.
The average price of organic pigmeat actually declined by more than 5% over the period, but remained, by a distance the most expensive option, at £13.45/kg.

"Over the last few years, ODB pork and pigmeat has outperformed the total pork market. However, this year the trend appears to have reversed," Ms Forkes-Rees said.
Reducing spend
"Consumers are now having to find other ways to scale back their spend at mealtimes. This has ranged from reducing the number of main meals which contain meat, to trading down proteins or cuts within a protein, as the cost-of-living crisis continues to impact on consumers. This appears to be negatively impacting both primary pork and OBD pigmeat products.
Outdoor bred claims have reduced in importance with consumers over the last couple of years. Data from research in May by AHDB and YouGov showed the only 22% of consumers say that outdoor bred claims are important to them when buying premium pork products. Whilst only marginally down on last year (-1%) this is 7% lower than 2021.
"Interestingly, consumers consider outdoor reared, free range, British and quality assurances more important to them than cut type, whether it was local, organic status or breed, although these have also seen similar reductions in priority since 2021," Ms Forkes-Rees said.
Consumers are prioritising price as one of their most important factors when purchasing pork and pigmeat, with the May research showing 40% saying will buy whatever is best price, and 13% saying that they would like to buy ODB pork and pigmeat but that they find it too expensive.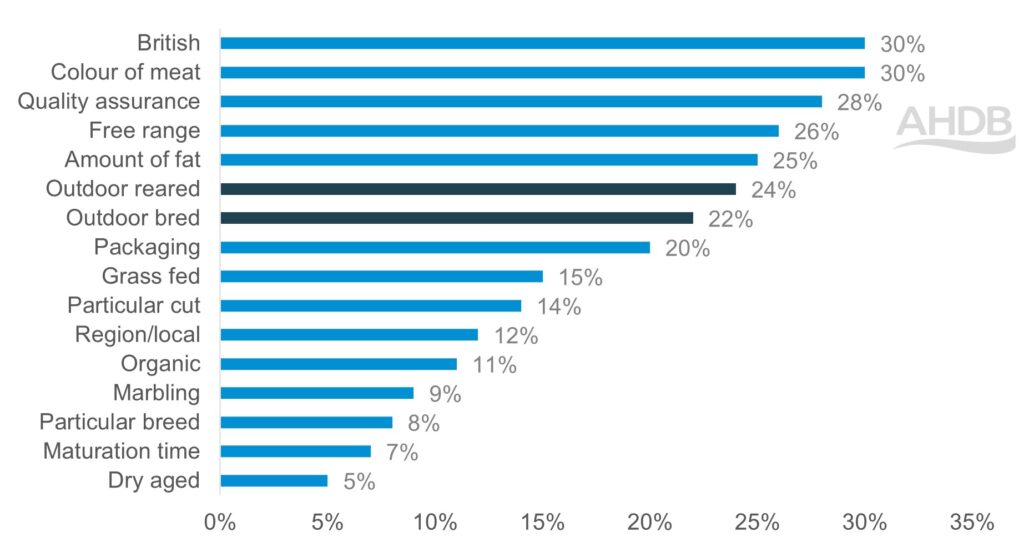 Opportunities
"Of those who do purchase outdoor bred pigmeat, older shopper groups, such as empty nesters and retirees, tend to purchase greater volumes," Ms Forkes-Rees added.
Families are less likely to purchase compared with all other demographics, Kantar data shows, perhaps due to the higher price.
"For those in older demographics, highlighting the treat appeal and premiumisation on a budget could help to maintain and grow ODB pork share, as they can offer a cost saving factor at mealtimes when compared to other premium proteins," Ms Forkes-Rees said.
"For all demographics it is clear that there is a level of appeal and desire to purchase ODB pigmeat products. However, currently the benefits of ODB are not enough to justify the higher price point with many consumers. Therefore, retailers should continue to highlight the standards, benefits, and premium quality of ODB pigmeat to communicate the value of ODB and as a means to inspire consumers to want to purchase them."
APP-SPP reversal
Pressure on the 'premium' pork market has also been highlighted by the reversal of the usual relationship between APP price index, which includes premium pork, and the SPP doesn't. The APP typically holds a premium of few pence over the SPP, but in May it dropped behind the SPP and that has remained the case, other than for one week, ever since.