AHDB report that the latest USDA figures show that pork production in China will decline in 2024, with weakening consumer demand and a slowing economy.
The country is forecasting a 1% decline in pork production to 55.95 Mt next year as a result of lower slaughter numbers due to reduced pig numbers and continuing struggles with animal health.
Soumya Behera, senior analyst at AHDB, said: "Lower pig prices so far in 2023 have led to a challenging environment for Chinese pig producers. As a result, some have been selling pigs early and reducing their production capacity, with some smaller producers exiting the industry altogether. Increased culling and concerns over animal disease outbreaks have resulted in some animals going to slaughter before reaching ideal market weights. The current forecast for this year's pork production in China is 56.50 Mt."
Prices
There has been movement in wholesale prices in China over the past year, ranging from 35.7 yuan/kg in October 2022 to lows of 18.8 yuan/kg in July 2023. Things have looked up, a little, over the past few months with prices rising ti 22.4 yuan/kg at the end of September.
Ms Behera explained: "Market intervention is relatively common practice for the Chinese government. After pork prices surged over winter, reserves were released to the market in February to stabilise prices. On the contrary, in July the Chinese government is reported to have stockpiled 40,000 tonnes of pork, according to USDA, to replenish national reserves which supported prices."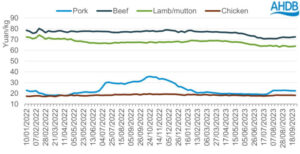 Around 60% of all meat consumed in China is pork and this share has continued to grow over recent year, particularly in the middle-class population. However, experts had expected to see a sharp increase in consumption following the lifting of covid restrictions and this uplift did not occur. Instead, the economy has slowed with current challenges for the sector set to continue. Consumption is anticipated to dip in 2024 with hospitality and retail demand maintaining similar levels to this year.
Imports
January to August of 2023 saw China import a total of 1.90 Mt of pig meat. Although this is an increase of 165,000 tonnes compared to last year, it is a reduction of 1.74Mt on 2021. 61% of this is fresh/frozen produce (1.16Mt, up 10% year on year) whilst almost all of the rest of the import volume is offal.
Spain continues to be the main exporter to China, with 436,000 t of pork products being shipped this year. Despite this, volumes have fallen resulting in a reduction in market share from 26% in 2022 to 23% in 2023. Ms Behera said: "This is a trend repeated across Europe as production declines reduce the volume of available product. The UK market share has fallen from 5% last year to 4% this year, with a total of 81,000 t of pig meat shipped to the China for the year to date."
The US, Brazil and Canada have all recorded significant year on year volume increases. This has grown the market shares of the US and Brazil to 16%, up from 14% and 15% respectively last year. Canada now holds a 9% market share, up from 6% in 2022.
China has lifted restrictions on imports of pork from Russia, meaning another key competitor could come to the market in the coming months.
Ms Behera concluded: "China remains a key player in the global pork market, consuming around 40% of the world's pork. Domestic production and pig meat import volumes are in line with those recorded before the outbreak of ASF in the region. Comfortable supply means demand will be instrumental in driving the market in the coming months."