The Cobthorn Trust has announced the death of Andrew Sheppy, one of the country's leading livestock breed conservationists.
Andrew, who was described as a 'champion of the Oxford Sandy & Black', died on Tuesday, following an accident at his farm.
Andrew was a trustee of the Cobthorn Trust, which based at Cobthorn Farm, in Somerset, has been dedicated to conservation activities since 1986. Cobthorn Farm has been involved in rare breed farming since 1959, while Andrew was one of the founding fathers of the Rare Breeds Survival Trust (RBST) and served as a trustee for many years.
In a statement, the Trust said: "We are so very sad to announce the passing of Andrew Sheppy, a man we love and admire so much.
"Our thoughts are with his close friends, family, and colleagues. Shep was a tremendous man with an enormously generous spirit, wicked sense of humour, and an unwavering commitment to conservation biology. He was a true inspiration for so many biologists, young and old, and his impact and influence as a conservationist, teacher, musician, and mentor will certainly endure.
"The Cobthorn Trustees and close supporters of Shep's work are making arrangements for the animals at the farm and will do everything necessary to preserve his legacy and continue his work.
"Rest in Peace, Shep. Rest in Peace. We'll miss you."
A champion of the Oxford Sandy & Black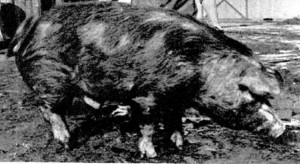 Commenting on Twitter, the British Pig Association said: "Very sad news that Andrew Sheppy has died. He was a champion of the Oxford Sandy & Black."
The association posted a picture of his Oxford Sandy & Black stock boar from 1984.
RBST said: "It is with heavy hearts we share the sad news of our friend and mentor Andrew Sheppy's passing.
"Although his more recent work with RBST has focused on poultry, he was a passionate Dexter breeder, one of the original founders of the Oxford Sandy and Black Pig Society. He also bred Hebrideans and Soays for many years, carrying out important genetic work with these and other sheep breeds in 1970's.
"Everyone at RBST will miss him greatly and all our thoughts are his family and close friends at this difficult time."
He was also an honorary lecturer at Bristol Vet College, winner of the Marsh Christian Trust Award for Conservation Genetic Bio-Diversity and founder and current President of the Rare Poultry Society.
Andrew is pictured above receiving his Marsh Christian Award for Conservation in Genetic Bio-Diversity from Emily Reeves and Dr Phil Sponenberg