Cargill has introduced a new reference farm in the UK to carry out research projects on grower and finisher pigs.
The site is set up to reflect UK commercial pig units and the projects carried out will focus on the interaction of the environment, nutrition and management and how these factors can improve pig welfare and performance, unit sustainability and producer profitability.
The new facility consists of 2,000 fully-slatted finisher spaces, with monitoring and recording equipment installed to allow studies to be run in a controlled yet commercially-relevant situation.
The feed system can deliver up to four diets at once, and a specified blend of feed from different silos can be delivered to any of the pens. The farm uses Agriness S4 recording software to analyse performance and health details in a central online hub.
Cargill's priority areas for trials are nutritional strategies to improve welfare and sustainability, and on alternative diet formulations that can improve protein utilisation.
 "Our main aim is to monitor how different diets and nutritional products perform in conditions that are akin to the situation on many of our customers' farms," said Cargill research coordinator Clare Gaukroger.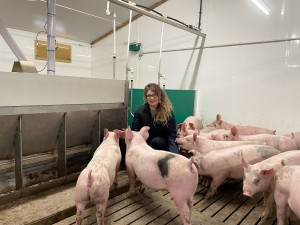 "We can draw on a wealth of research from the global Cargill pig research programme, but it is important to research these concepts more locally, and on farm, so our recommendations can bring real benefits to the UK industry.
"The system design allows us to run robust scientific studies with individual pen replicates for feed intake and feed conversion ratios. We can also monitor average daily weight gains, water intake patterns and environmental conditions within each building. Daily feed intake can also be recorded along with the pigs' feeding behavioural pattern.
"We can use this to investigate the performance between pens within a project and between projects that run at different times.
The new facility is Cargill's second UK-based reference farm – Dr Gaukroger also co-ordinates projects on a weaner pig facility.
The company said this latest addition strengthens ita R&D footprint in the UK and enables ir to offer 'tried and tested' products and advice across the whole pig lifecycle.