Tariffs imposed on US agricultural products have been limiting export volumes in the first quarter of 2019, while Canada has been making the most of increased demand in China.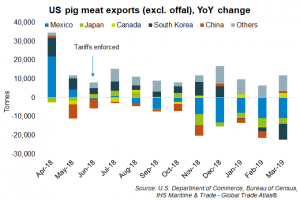 US pig meat exports (excl. offal) were down 5% in the first quarter, to 527,000 tonnes. Significant declines in exports to Mexico, especially fresh pork, are largely to blame. Mid-way through 2018, Mexico imposed retaliatory tariffs on a number of US pork products, which had had a negative effect on US pork exports since then.
However, an agreement between the two countries has been reached in the last week. This has resulted in tariffs being removed, welcome news to US pork producers.
AHDB analyst Tom Forshaw said: "US pork exports have grown to some other markets however. Trade with Canada has increase in the first three months of the year, despite also being hampered by tariffs, also lifted recently. A selection of smaller markets have all recorded promising growth in the first quarter."
Canadian exports of pig meat (excl. offal) increased 3%, or 7,400 tonnes in the first quarter of 2019, although a large decline in shipments to the US has tempered some of the increases.
Mr Forshaw added: "Canada has made the most of the gap in the market in China. Exports to the region are up 42% and total 65,000 tonnes making China Canada's leading export destination. Canada has also made up some ground in Mexico, with volumes up 5,000 tonnes in the quarter."