The extent to which the entire pig supply chain is 'Rising to the AMR Challenge' was highlighted at a special event in London, organised by feed business ForFarmers.
Timed to coincide with the National Pig Awards, the conference showcased what is already being done to reduce and refine antibiotic usage – and how much more there is to do.
Andrew Saunders, Tulip's agriculture director, summed up the mood. "Everywhere you look, we are getting more and more concern about this. Everybody is on the case," he said, referring to the company's UK retailer and export customers, as well as the media, Government and campaign groups.
While the subject is 'moving at pace' and the industry is clearly taking steps to respond, Mr Saunders questioned whether it was 'moving quickly enough', in, for example, the collation of antibiotic usage data.
He also highlighted data suggesting the pig sector 'could improve, in terms of its utilisation of in-feed medication' for what might be perceived as prophylactic treatment.
He outlined the 'holistic approach' Tulip's supply chain was taking to 'deal with and avoid the issues associated with antimicrobial resistance (AMR)'.
This includes a strong focus on pig health among its supply base to reduce reliance on antibiotics, although he stressed the focus was very much on 'responsible use, rather than no use'.
Eliminating prophylactic use
Strategies have been put in place within Tulip's farms for reducing the use of Critically Important Antibiotics (CIAs), as well as monitoring pig health and feeding data back from abattoirs to farms, via the CCIR system.
Mr Saunders added: "We have started eliminating prophylactic use to the point where, from October 1, we have stopped using any in-feed medication whatsoever. All our focus is now on utilising water systems."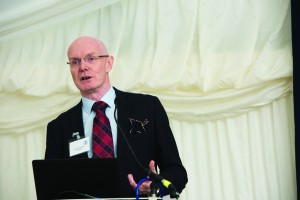 "We have stopped using any in-feed medication whatsoever. All our focus is now on utilising water systems." Andrew Saunders, above
Earlier, National Pig Association senior policy advisor Georgina Crayford set the scene, outlining the drivers behind the current focus on AMR, including EU legislation, UK and international government concern over resistance to human drugs and the Government-commissioned O'Neill report, published in May.
It left the pig industry, along with other sectors, facing new 10-year antibiotic targets, to be agreed early next year, and rigid oversight of the use of CIAs, which is why NPA developed its industry stewardship programme, to embrace a holistic approach to the problem.
Dutch covenant
There was an interesting insight from ForFarmers' director of nutritional innovation Leon Marchal, into how the Netherlands has approached the issue through a voluntary 'covenant' approach from its farm sectors.
This included setting a target for a 75 per cent reduction in usage by 2015 from a 2009 base, clear responsibilities for prescribing and systems to provide transparency on usage.
In-feed medication was stopped in 2011, which Dr Marchal said had delivered various benefits, including enabling antibiotics to be administered 'faster on and faster off' through drinking water and topdressing, while reducing costs and complexity in feed mills.
ForFarmers' monogastric nutritionist Steve Wilson stressed the interdependence between health and nutrition. He outlined some of the nutritional solutions the company was working on to enhance the immune system, reduce the pathogen load, modify the gut microbiota and stimulate the digestive function.
Summing up proceedings, Andrew Knowles, the company's marketing director for pigs, stressed the need for a 'multi-factorial approach, requiring many partners' to meet the challenge.
"We understand that the key to success is great husbandry on farms. If we are to succeed, it will require some investment and new equipment, and the supply chain needs to recognise that. Nutrition will be central and we will work side by side with farmers to provide that solution."
He revealed ForFarmers was planning to help farmers, by directly entering data on antibiotics in feed, with the permission of the customer, into the eMB-Pigs database from early next year.
"Without data, we are shooting in the dark," he said.
ForFarmers, in partnership with AHDB Pork, will be holding regional AMR roadshows for farmers on:
January 23 – Sandburn Hall, York
January 24– Diss Rugby Club
January 25 – Exeter Race Course