Becoming Scotland's latest pig monitor farmer isn't for the faint-hearted, even if the four-year commitment holds the promise of production and efficiency improvements for current host producer Patrick Stephen and pig unit manager Wayne Ducker.
The 550-sow unit at Mill of Carden, Pitcaple, near Inverurie, which is located about four miles from Patrick's Conglass home farm, achieves close to 30 pigs weaned/sow/year and produces 2,400kg deadweight/sow/year – figures which mean the four-year exercise has started from a solid base.
Patrick is eight months into the programme, which he hopes will drive further improvement.
"I'm the third Scottish pig monitor farmer and I know both the first two would say they gained a lot out of their terms and that their businesses are better now as a result," he said.
"I also want to put something back into the industry, which has been good to me and a lot of other people in the north-east of Scotland.
"Wayne and I also recognise that being part of this programme will identify any faults in the business and help us improve.
"Finally, I accept that I'm not so good at paying attention to detail, which is something the really good guys always pick up on. Ultimately, therefore, I want to become one of the good guys."
Wayne Ducker (third right) listens to views on his pig management ideas


Why monitor opportunity was an obvious step
Mill of Carden pig unit manager Wayne Ducker said the business would have been 'daft' not to take the opportunity of entering the pig monitor programme.
"We'd seen the two previous monitor farms in operation and they just made constant improvements throughout the process," he told Pig World.
"We also had two different feeding systems in operation – restrict-fed and ad-lib, and thought monitoring them on a comparative basis would be really valuable for us and, hopefully, of interest to others.
"Seeing how the previous two units had advanced, plus the increased advice, ideas and input from other farmers and industry specialists made the monitor step an obvious one for us. Hopefully, it will help us push the business forward, which would be great, especially given what has been invested in the unit in recent years.
"Everyone thinks we should be doing lots of things at the start of the programme, of course, but I think we need to pace our response, concentrating on one point at a time and getting it right, rather than trying too many changes, all at once.
"When we get to the end, however, I would hope we'll have seen some real gains.
"I'm sure the monitor programme will also be good for the unit staff team, many of whom are doing some pretty routine jobs and this exercise will let them see where we're going and their involvement in taking the business forward."
As part of the programme, Patrick hosts regular open monitor sessions, attended
by 25 local farmers and pig sector specialists, leaving no stone unturned concerning how the new owner and manager team run their unit.
"I'm sure there will be plenty of things to learn as we move through the programme – all the time exposing our methods, plans and objectives to everyone who attends the monitor sessions," said Patrick, adding that he often finds himself thinking differently to others, a trait he knows will pique the interest of his monitor audience.
"For example, the last fattening house we built was equipped with a wet-fed long trough restricted feed system, which is how millions of pigs in Europe are fed, but very few in the UK," he said.
"We also seem to be obsessed with daily liveweight gain (DLWG) in Britain, while European producers are more focused on feed conversion ratio (FCR) and cost per kg gain. As part of the monitor programme, we're doing a lot more weighing than we did previously and, in relation to DLWG, FCR and cost per kg gain, the results are already very interesting.
"Quite often, in fact, the pigs with the highest growth rate have the worst cost per kg gain, showing you have to get everything right, across the whole production process, to secure maximum growth at least cost. If we managed to reduce our cost per kg gain by 5p, which I think is achievable, it would be worth £54,000 a year to the business. That's incredible."
Scotland's first pig monitor farmer Roderic Bruce, of Udny, Aberdeenshire, said: "I was keen on the monitor idea when it was initially discussed and allowed my unit to be put forward for the first programme. I did say, at the time, that I was the wrong person because my unit was already too good and they wouldn't improve it. I was then quite alarmed at how much we did improve during the programme. It maybe coincided with other things but we'd been trying to improve for 30 years previously and had never made such an improvement as we did during our three-year monitor period.
"The improvements touched everything really – performance, output and efficiency. The fact that your peers are all looking over your shoulder just makes you focus more on what you're doing and we simply started doing a better job – so much so that at the end of our term I was a bit anxious about how we would maintain our momentum.It was definitely a valuable experience."
The unit is also witnessing the benefits of the programme's requirement to run both carbon and biosecurity audits – even if only in concept at this stage.
Patrick said: "The carbon audit wasn't something I would have done outside the programme. It was interesting, however, and will obviously become an increasingly important part of farming in the future.
"As for the biosecurity audit, we actually didn't score that highly. As a result, we're now thinking about things a bit differently. This includes thinking about laying a road around the back of our new fattening house to avoid deliveries having to going into the unit itself. Having already discussed this in a monitor meeting, we are now facing questions each quarter about whether or not the road has been completed.
"It hasn't as yet, but we are still only about eight months into our term. The pressure on us will no doubt rack up as we get deeper into the four-year programme."
Being a monitor farmer also means ignoring some of the ideas that emerge during open sessions and being realistic about what can be achieved within a budget.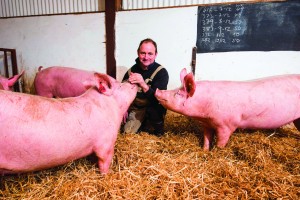 "Lots of differences of opinion are voiced during the open meetings, plus some suggestions that we simply decide to disregard," said Patrick. "It's also important to appreciate what we're working with. The ideal would be to flatten all our existing buildings and start again, but that's out of the question in terms of cost-effective investment in our business.
"Conglass was a 40-sow unit in 1968 and is now a 550-sow enterprise. As such, we've never really had enough finishing accommodation of our own and always seem to be building sheds.
"This is simply the result of our expansion over the years and a factor we have to work with.
"We might add a grain shed to the business in the future, plus a couple more general purpose buildings, but that's about all. I'd like to be producing 300 pigs a week as efficiently as possible and doing that for the next 20-30 years. To expand further, we would need to buy a new unit and I'm really not sure about that.
"If we hit our 300 pig/week target and make a good job of the existing unit then we should make money. I do like trying new things, however, so you can never rule anything out."
About the project
Scotland's Pig Monitor Farm Project is joint-funded by Quality Meat Scotland and Opportunity North East, with the aim of helping to improve the profitability, productivity and sustainability of pig producers through practical demonstrations, sharing best practice and discussion of up-to-date issues. Farmers are invited to attend regular monitor meetings to meet the host farmer, hear what is happening on the monitor farm and debate possible changes. The programme is facilitated by Aberdeenshire pig vet Grace Webster, and George Chalmers, of Scotland's Rural College.