The potential benefits of PIC's gene-edited PRRS-resistant pigs are huge. But will regulators, the supply chain and consumers accept this new technology? At a series of meetings in September, leading figures from PIC explained the steps they are taking to gain market acceptance. ALISTAIR DRIVER reports
When Porcine Reproductive and Respiratory Syndrome (PRRS), as it became known, was discovered in the early 1990s, it was named, simply, 'mystery swine disease'. Nobody seemed to know where it came from or how to stop it spreading.
More than three decades on, while huge strides have made in tackling in other damaging pig diseases, little progress has been made in reining in what the World Organisation for Animal Health describes as 'the most important disease' in pigs in North America and Europe, with a growing presence in Asia.
In the US alone, PRRS is estimated to cost $664m (£545m) a year, with up to 45% losses in the breeding herd, while the US's extensive annual testing programme, covering about half the breeding herd, suggests the proportion of positive herds is actually on the rise. The disease is estimated to cost producers in England
£30m each year.
"We have spent so much time and money developing strategies to deal with PRRS – biosecurity protocols on farms, diagnostics, pig movements and vaccination – yet we are still struggling with it 30 years later," said Lucina Galina, PIC's director of technical research. The pig breeding company, founded in a pub by six pig farmers in Oxford in 1962 but now part of global genetics giant, Genus PIC, believes it now has a tool that could not only play a huge role in getting on top of this devastating pig disease, but also deliver wider benefits for society.
PIC has worked with the University of Missouri and Scotland's Roslin Institute to produce pigs using gene editing that are resistant to PRRS – and could be just a few months away from approval in the US. It is also pursuing approval in other important markets, including, against the odds, the UK, or at least England, where Defra's Genetic Technology (Precision Breeding) Act has opened the door to this exciting new technology at some point in the future.
But regulatory approval will only be part of the story. PIC knows, particularly following the flawed efforts to introduce genetically modified (GM) crops in Europe, that it needs to win the hearts and minds of the supply chain and consumers if the technology is ever to be allowed to really flourish.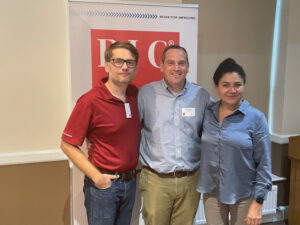 At a series of meetings in Yorkshire, East Anglia and the South West in September, leading figures from the company explained how the technology works, progress on the regulatory front and how it is embarking on an engagement campaign to gain market acceptance. "This is a real step change in technology, comparable to steam trains, the jet engine and the microchip," said PIC commercial director for UK and Ireland, Steve Furniss,
opening the meetings. "The world is going to keep asking very difficult questions and we need big tools to answer them. I believe this is one of them."
WHAT IS GENE EDITING?
Gene editing is an exciting new technology that has blossomed over the past decade, with well-established applications in human medicine, plant breeding and, increasingly, livestock. It differs fundamentally from genetic modification, which means, according to its proponents, that it should be regulated differently.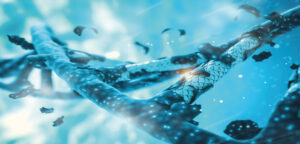 GM technology typically involves inserting a new gene from an entirely different species into a plant's genome – for example, GM maize was modified by genetic material from a bacterium to make it poisonous to certain insects. Gene editing generally involves removing a gene, or part of a gene, to develop a positive trait, or remove a negative one. There is no new genetic material introduced.
The main gene-editing tool is CRISPR, which, developed in 2012, is able to locate a specific piece of DNA and alter it, thereby targeting and speeding up mutations that naturally happen each generation. On the human health side, gene therapies using the technology have been developed to address, for example, sickle cell anaemia, HIV and several types of cancer.
Lots of products have been developed on on the plant breeding side, with some already commercialised in the US, including a soybean oil that contains up to 20% less saturated fatty acids than commodity soybeans and a 'purple tomato' with increased antioxidant properties. The livestock side is less advanced, but projects include work to develop cattle with a 'slick coat' to be heat resistant. This has received FDA approval.
Israeli scientists have developed gene-edited hens that lay eggs from which only female chicks hatch to prevent the wasteful culling of millions if male chicks. But, arguably, the most exciting livestock application so far is PIC's PRRS-resistant pigs.
PRRS-RESISTANT PIGS
Initially, the University of Missouri developed pigs that were resistant to the disease by removing the entire gene, called CD163, that the PRRS virus attaches to. Researchers at Scotland's Roslin Institute, famed nearly 30 years ago for cloning Dolly the Sheep, have refined the process by removing one portion of the gene, domain 5 of CD163, where the PRRS receptor has been identified. "A very small portion of the genome of the target protein was removed, so the virus cannot attach to the cells,"
Dr Galina explained. PIC now has three farms, two in Kentucky, one in Minnesota, breeding gene-edited pigs that are resistant to PRRS. "Those pigs are like any other pig you have seen – you cannot distinguish which are edited," she added. Extensive tests on gene-edited pigs inoculated with many different PRRS strains showed no signs of the virus, while non-gene-edited pigs in the same conditions tested positive.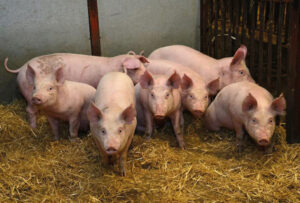 Dr Galina also highlighted how, in another study, the PRRS-resistant pigs were associated with a big drop in antimicrobial usage, which PIC believes could prove to be another key benefit of the technology. Dr Galina stressed that the pigs sold commercially will not be gene edited, themselves – they will be second and third generations, and so on. "The animals we are editing will be at the top of a very small founding population," she said. Once the product is approved and, sometime later, commercialised, the main route for implementation of the technology will be through semen. But it will be a gradual process to build up herd resistance to PRRS, partly because the gene in question is recessive, meaning it needs to be present in both parents for the trait to be passed on.
Modelling of PRRS-resistant semen introduced into a 1000-sow herd estimated 70% resistance would be achieved by year five and 100% by year 10. "But there are ways this process can be accelerated, such as increasing the number of replacement gilts that carry the resistant gene," Dr Galina added. At end of August, PIC submitted most of the documents necessary for a full application for its gene-edited pigs to the US Food and Drug Administration (FDA). "We are now in a waiting period. If everything goes OK, we will hear in six months whether it's approved or not, or if they have more questions," Dr Galina said.
If and when the company gets its US approval, commercialisation will not follow quickly. PIC will need to be fully convinced, first, that the supply chain and consumers are ready for the technology. It is also working with authorities in other key markets, such as Mexico, Canada, China and Japan – with 30% of US pork traded internationally, it is aware it may require approval in these trading partners before rolling out the technology
commercially in the US.
MARKET ACCEPTANCE
PIC is determined to learn the lessons from the doomed efforts to introduce herbicide-resistant GM crops into the UK and European markets from the late-1990s.
While scientists and the companies involved were confident the technology would prevail, NGOs jumped on the bandwagon, raising concerns about food safety – aided by Árpád Pusztai's study in Aberdeen, suggesting negative impacts on rats that consumed GM potatoes that led to the term 'Frankenfoods' – as well as
the environmental impact and wider ethical issues.
Yet, beyond helping farmers with their input regimes, the benefits of GM were not obvious to politicians, the supply chain, the public or a highly sceptical media. It became an impossible mountain to climb, and nearly 25 years and various trials on, GM crops have never been commercially grown in the UK and barely in the EU.
With the lessons of this recent history in mind, Banks Baker, PIC's global director for product sustainability, is responsible for gaining market acceptance for PIC's PRRSresistant pigs. He and others are actively engaging with producers, processors, retailers and consumers to make the wider case for the technology. Mr Baker highlighted how the corporate world, driven by shareholders and consumers, is increasingly responding to the sustainability agenda – 83% of Fortune 500 companies have publicly made climate commitments; and more than 5,200 companies use Science Based Targets to cut carbon emissions from their supply chains.
PIC is partnering with third-party researchers to undertake Life Cycle Assessment (LCA), which will quantify environmental benefits, including GHG reductions, associated with use of its elite genetics. It is partnering with the US National Pork Board (NPB) to create a Carbon Reduction Framework that will enable retailers, foodservice organisations and others to 'measure and claim genetically-derived carbon reductions as progress toward their climate goals.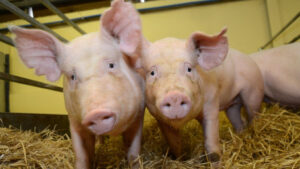 Mr Baker said gene editing can accelerate the existing benefits of high-quality pig genetics, improving animal welfare, reducing the environmental impact of protein production and further cutting antibiotic use, addressing
antimicrobial resistance, another huge global concern.
"We now have a solution to address PRRS, which is pretty incredible," he said. "The challenge now is to make sure we have market acceptance. Now we've got something different, we need to make sure that the entire value chain is comfortable with gene editing. "To do that, we are utilising what we call our 'quadruple bottom line' (QBL) to communicate the benefits of genetic improvement through gene editing – across people, pigs, planet and profit.
The company has worked with consumer Research Institute Circana to gauge consumer feelings about gene editing and the PRRS-resistant pigs. This confirmed that consumers are 'not excited' by technology that improves improving production efficiency – but attitudes change when issues like sustainability and animal welfare come into the equation, Mr Baker said. "Consumers were saying: What's in this for me? That's what the QBL allows us to address, as there's something in this for everyone," he said. How gene-edited products are labelled, if at all, will be key – research has also addressed consumer attitudes towards different terminology. "We need to lead with the benefits.
Consumers really liked the idea of 'better for the animal' and 'better for the environment', but they didn't want to hear about 'CRISPR gene edited'," Mr Baker said. Once PIC gets FDA approval, it intends to work with celebrity chefs and 'influencers' and serve gene-edited pork to consumers to highlight the product and its wider benefits.
"All of this is for nothing if the consumer doesn't accept the product. They are in the driver's seat – they decide whether or not this is the appropriate product for them and their family," Mr Baker said. It is inevitable that there will be a backlash from NGOs.
Compassion in World Farming (CIWF) has already told its supporters that 'gene editing will perpetuate animal suffering'. But Mr Baker said some campaign groups in the US have taken a more balanced view when the animal welfare and sustainability benefits are presented. He maintains that the 'indirect pressure' from animal welfare groups will be outweighed by the pressure from major shareholders on climate commitments, and PIC is convinced that the public argument is 'winnable'.
Mr Baker stressed that PRRS-resistant pigs will be among the first of many applications of livestock gene editing, with wider benefits that cannot, ultimately, be ignored. "There is a need to be proactive in sharing research and
information – we're going to try to control the message," he said.
THE UK MARKET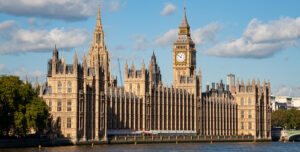 The UK was 'not even on PIC's radar' when gene-editing pigs were first talked about, Dr Craig Lewis, PIC's genetic services director, admitted. It was a market that appeared permanently closed. That all changed, however, with the unanticipated passage of the Genetic Technology (Precision Breeding) Act through parliament. The Bill, introduced by then Defra Secretary George Eustice in May 2022, takes advantage of the UK's ability to diverge from EU regulation.
It was granted Royal Assent in March, paving the way for gene-edited crops and livestock to be introduced on farms in England, albeit in a gradual staged approach. The Act has the powers to remove plants and animals produced through precision breeding technologies from GMO regulatory requirements in England. It also establishes a new science-based authorisation process for products derived from using precision-bred plants and animals.
Defra said at the time that it was 'taking a step-by-step approach, enabling use of precision-breeding technologies with plants first, followed by animals later', recognising that 'there is a need to safeguard
animal welfare in the new regulatory framework'. It suggested this would need more time to achieve, involving detailed discussion with various parties.
Animal welfare implications were among the issues raised during scrutiny of the Bill in parliament, with some
stakeholders warning of the need to ensure animal welfare is not compromised by breeding to select certain traits. According to PIC, while more detailed implementing rules authorising precision-bred crops for commercial release in England are expected to be finalised in summer 2024, coming into force at the end of 2024, the Government has indicated the equivalent process for farm animals could take longer – with some estimates
suggesting a further two years.
Dr Lewis has spent a lot of time working on the Bill in Westminster, including, alongside other UK breeding companies, trying to persuade policymakers to bring the process for gene edited into line with that for plants. "We have said, if there's going to be progressive legislative changes, livestock needs to be a part of that because we believe animals are part of the overall solution when it comes to sustainability in agriculture," he said. "This is a step-changing technology, and we are on the cusp of really being able to utilise it," he said, describing the Precision Breeding Act as 'one of the most progressive pieces of legislation that we've seen internationally'.
The Food Standards Agency is exploring the food safety aspects and labelling requirements, while Defra has made it clear it will be examining the animal welfare implications, something PIC was delighted about. "We
actively want that to be a part of the conversation, so we can demonstrate that gene editing is not going to cause any negative outcomes," Dr Lewis said.
He said there were clear signs of a more positive approach within Westminster. While the FSA initially appeared to be echoing the burdensome GM regulatory requirements when it came to gene editing, papers published in September suggested it was 'changing tack' and following the Canadian-based approach where gene-edited products are treated as not necessarily different from conventionally bred products. "This is really progressive," Dr Lewis said.
POTENTIAL BARRIERS
Alongside the ongoing process to develop detailed secondary legislation, a number of potential barriers await. One is a possible change of UK Government next year – Labour has not, so far, been as supportive of the technology as the current Government. Another is the fact that England is currently on its own in the UK in this process – it would be very difficult it to go it alone on a commercial basis.
Mr Lewis noted that Scotland generally preferred to align its policies in these areas with Brussels, rather than London, but added that conversations are now taking place in Edinburgh about the technology. Commercialisation of gene-edited pigs in England/UK would also be fraught with problems without similar rules in place in the EU and other export markets destinations. But Dr Lewis insisted the conversation in the UK 'is having massive ripples in Brussels'. "It's amazing how much Europe has moved even in last 12 months," he said, adding that the greater spotlight on food security of late and the wider sustainability benefits of gene editing have helped focused minds.
Then, of course, there is supply chain and consumer acceptance, likely to be a bigger challenge here than in the US. "Once the secondary legislation comes in, PIC will work to submit the documentation required to register that product. Once that starts, we will seek supermarket approval and engage with other stakeholders," Dr Lewis said. "I am more and more excited about this technology every day. Through gene editing and vaccines, we could eradicate PRRS from the UK pig herd – that should be our collective ultimate goal."
FARMER PLEA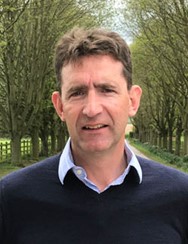 PIC's September meetings clearly inspired producers. Yorkshire producer Rob Beckett wrote to Farming Minister Mark Spencer MP after the York meeting, urging him to intervene to speed up the legislative process for gene edited farmed animals.
Mr Beckett, who also chairs Thames Valley Cambac, highlighted the huge economic cost of PRRS and the 'animal suffering and distress it causes among producers'. "A genetic solution is now available which could eradicate this horrible disease – it seems unethical not to get it  out onto farms at the earliest possible opportunity," he said