When it was announced that JSR was forming a genetic partnership with Topigs Norsvin in May 2015, it was stated that the sow-breeding line of the British firm would now be "powered" by the Dutch-based company, which would be responsible for breeding value calculations and other technology related to the JSR breeding programme.
At the time, JSR chairman Bernard Hoggarth said the agreement meant two leading companies in the world of pig genetics were joining forces to achieve faster genetic progress.
"Both companies retain their independence," he added, "but it will allow JSR to offer its customers in Great Britain more choice and a world-class range of competitive products."
Almost exactly one year later, the first new product to come from the relationship is being launched. The JSR 9T is a hybrid dam line combining the Topigs Large White Z-line and the JSR Landrace. It's said to be a prolific female with exceptional weaning abilities, and an outstanding and unique contribution to finishing performance.
Characteristics of the JSR 9T include: superior productivity with a high number of born and weaned piglets; an excellent balance between prolificacy and uniform piglets; superior underline quality and weaning capacity; and the ability to produce high lean meat yield at heavier weights.
Topigs Norsvin says the contribution from its damlines is unique in their ability to combine good reproductive and maternal traits – that result in large litters of strong and vigorous piglets – with a superior genetic input to the finisher in terms of feed efficiency, lean growth and excellent carcase quality.
World class
And there's no doubt that this is a world-class product. Topigs Norsvin's pedigree is clear in that it's the second largest pig breeding company globally. Its multipliers supply about 1.6 million gilts annually, while the company also supplies nine million doses of AI semen that lead to the production of about 100 million slaughter pigs every year.
The Topigs Norsvin Z-Line is one of the damlines the company develops to produce  the four gilts (the offering has recently been reduced from six) it sells worldwide. It's able to do this because its breeding programme includes selecting for robustness (and by association animal welfare). With customers in more than 50 countries, its pigs are exposed to a wide variety of challenges in different commercial environments. These include various diseases, seasonal variations, heat stress, different feeds and variations in labour provision and overall management strategies.
As part of its ongoing research programmes, Topigs Norsvin is looking for solutions for the efficient genetic selection of pigs with the ability to maintain production despite a variety of challenges.
Breeding goal
When the Topigs Norsvin breeding team sat down to look at the characteristics that were desirable in the dam line that would contribute to the JSR 9T, their focus was on coming up with a sow that displayed total feed efficiency; was high producing and easy to manage, and would produce progeny that had a high meat yield and reached higher weights more quickly. This has resulted in the selection of the following traits and weightings (see panel): finisher efficiency, 29%; easy to use 18%; robustness, 25%; litter size 19%; carcase value at 8% and meat quality at 3%.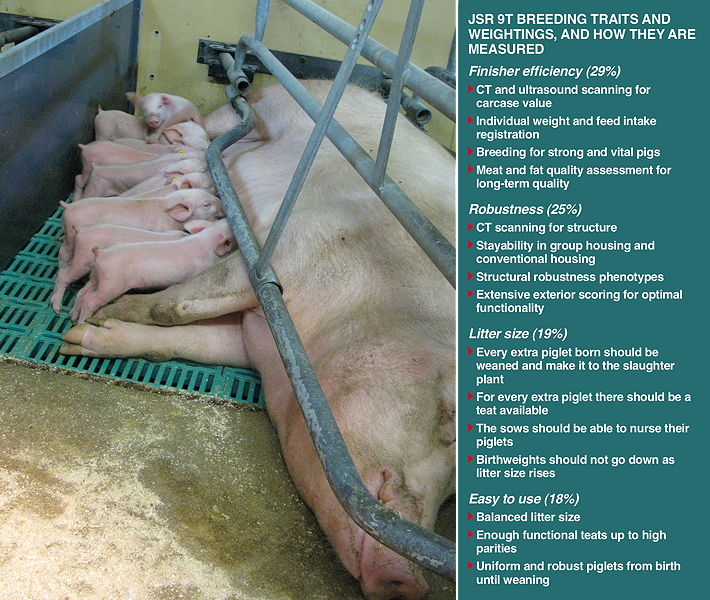 What makes the new dam line really special, however, and the reason that JSR saw value in the Topigs Norsvin partnership, is the way the breeding values are calculated. Since 2014, the Dutch-based firm has been using genomics in conjunction with DNA-information for selection, which makes breeding much more accurate. It makes breeding for specific characteristics much easier, and incredibly the result is up to 30% faster genetic progress.
The reason that genomics is far more effective than traditional breeding techniques is that it turns out that the idea that both parents have an equal influence on the traits of their progeny is wrong. But working out which animals have the most influence takes a lot of work and technology that has only become widely available in recent years.
An idea of just how much information is used comes from the Topigs Norsvin Pigbase database that stores information on more than 34 million pigs and has calculated breeding values for close to 23 million pigs. With DNA data stored on 21 million pigs for 59 separate traits, multiple analyses are carried out every week that result in the production of a staggering 28 billion separate estimated breeding values (EBV) every week.
There are continuous updates of data from breeding farms worldwide – including JSR's gilt multiplication operation – feeding into the process, backed up by DNA analysis and herd recording to a very detailed level. At Topigs Norsvin, this includes individual piglet weighing on about 700,000 piglets every year within 24 hours of birth. All piglets are tagged at the same time, with DNA samples taken from pure-bred animals with breeding potential.
Other measurements taken include the recording of 20,000 individual feed intake measurements each year to identify the pigs with the best fed efficiency, and 70,000 muscle scans are undertaken on living animals to assist on improving meat and carcase quality.
As far as Topigs Norsvin is concerned, you can only improve what you measure, so this level of data capture is well worth the effort. It also means the company is able to combine the genomic data with environmental factors to identify the phenotypes that express how the animals perform in any given situation.
Easy to manage
The JSR 9T has, therefore, been bred to be easy to manage with less labour thanks to problem-free farrowing. It offers at least 14 functional teats (two more than the company's previous offering) with extraordinary milk production and docile nursing behaviour. The ultimate aim is more quality weaners at lower cost (see panel). JSR has been multiplying the new JSR 9T in the UK for several months now and the first gilts will be going out to buyers soon.
But Topigs Norsvin won't be resting on its laurels with the dam line. There are already plans in the pipeline to start selecting for residual feed intake, lactation efficiency and genotype feed interaction. And even further into the future stock selected for breeding the JSR 9T could also be chosen to influence the mature weight of the sow; for disease resistance and for intestinal health.
As with any breeding programme, progress is made by selecting the best parents to get the type of progeny you want, but by harnessing the power of genomics, DNA analysis and physical performance records, data and technology is making the accuracy of the process greater than could have been anticipated in the past.