The IDAL system has finally come of age with the introduction of the new Porcilis PCV ID vaccine from MSD, which will be available in the UK shortly. The benefits of IDAL's needle-free technology for both pigs and farm staff have been well documented since the system was launched a couple of years ago, and the introduction of MSD's Porcilis PRRS and Porcilis M Hyo ID Once vaccines have been well received. But, a PCV treatment has been greatly anticipated to allow the system to reach its potential.
The latest addition to MSD's portfolio of needle-free vaccines means that the company now offers answers to the world's three most important pig diseases, while Porcilis Begonia IDAL is also available for those who need it.
The result is that producers using the system can realistically aim at a needle-free future for routine treatments, and all the benefits that brings. In headline terms, animal welfare is hugely improved while the problems associated with intra-muscular (IM) injections are removed.
MSD introduced the new prescription-only PCV vaccine to European vets at a two-day meeting in Lisbon in February this year, but first the audience was told about the benefits of the IDAL system for the pig industry. In MSD's words, "It's right for the pigs. It's right for the people."
The benefits for pigs included:
quick, effective immune response thanks to the route of application (see panel overleaf);
reduced risk of transmitting disease between pigs by reusing needles;
low-volume 0.2ml dose is about one-tenth of that required with IM treatments;
quicker recovery demonstrated by piglets returning to suckling much more quickly than following conventional treatment;
less invasive process that means much lower stress, as well as reduced fear and pain indicators during treatment;
trials showing fewer adverse systemic events; and
no risk of needles breaking and remaining in the tissue causing lesions.
The benefits for farm owners and staff, meanwhile, are:
the one-piece IDAL injector is easy to handle and use;
a wide range of administration sites provides greater user flexibility;
large numbers of pigs can be vaccinated quickly and accurately with the right dose every time, reducing labour and increasing efficiency;
more consistent meat is produced because damage to tissue is reduced and there's no risk of broken needles being left in the meat;
low-volume dose means the vaccine bottles are smaller and easy to carry, as well as resulting in less waste;
there's a reduced risk of self injection; and
easier management of vaccine and vaccination data is possible via smartphones with the latest Bluetooth IDAL 2G device (see panel below).
IDAL PCV vaccine
MSD's global marketing director for swine, Michael Campbell, introduced Porcilis PCV ID to the Lisbon audience as Europe's first and only ID PCV vaccine.
"Now producers worldwide have a choice how they administer vaccines against the top three swine diseases," he said. "IDAL represents a viable alternative for farmers to consider."
The new vaccine was important as more than 80% of the world's pigs were affected by both PCV and M hyo. So the fact that MSD now offered a treatment for both was a major game changer.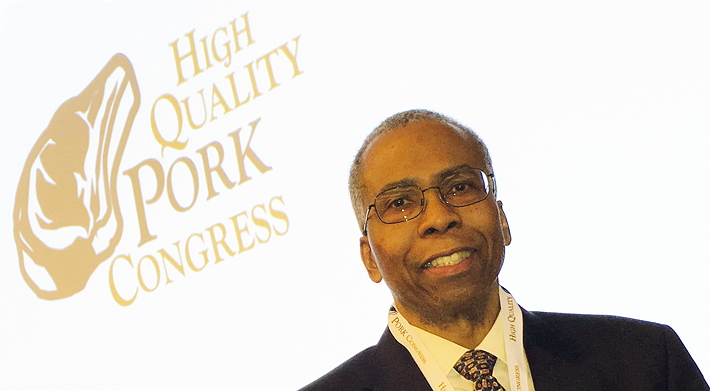 "Now we have a non-IM solution for both, and they can be given at the same time as long as different treatment sites are used," Mr Campbell said. "And Porcilis PCV ID provides 23 weeks' duration of immunity, which is at least as good as the best conventional treatment options.
"The fact we now have all the key vaccines and an improved IDAL injector means we expect greater customer acceptance as we roll these products out worldwide. We expect our competitors to also jump into this market, but we will continue working to add new vaccines and stay ahead."
Porcilis PCV ID is given as a single 0.2ml ID dose from three weeks of age to effectively control viraemia and subclinical PCV2 throughout the critical finishing period.
It has been shown in trials to: reduce viraemia caused by PCV2 infection; reduce virus load in lungs and lymphoid tissues caused by PCV2 infection; reduce virus shedding caused by PCV2 infection; and reduce loss of daily weight gain and mortality associated with PCV2 infection.
* * * * *
Intradermal vaccination
Despite the fact that most vaccination carried out in pigs is still done by intramuscular (IM) injection, the intradermal (ID) route is actually more logical. In fact, the first vaccination, developed by Edward Jenner against cowpox in 1796, was given intradermally by scratching the skin.
Professor Paolo Martelli of Parma University told the Lisbon meeting that the epidermis and dermis layers of the skin were actually natural barriers to disease, and that the dendritic cells that were abundantly present within the dermis were excellent "processors" of antigens.
ID vaccination induced an immune response and a clinical protection similar or even better than IM administration, the professor said, stating that there were advantages and disadvantages to both methods of administration.
IM vaccination resulted in high immunogenicity, but he added that the disadvantages of the process using needles included the fact it presented a biohazard; could result in abscesses and possible damage of carcases; and the response depended on the migration of inflammatory leukocytes to the site of injection, which meant that more "nasty" adjuvants and higher antigen doses and volumes were required.
The advantages of ID vaccination also included high immunogenicity, but the process also meant lower antigen doses were required (often 20% to 10% the amount); it was safer; there was no damage to carcases; and there was good lymphatic drainage. The only disadvantages of ID were practical rather than clinical, as the treatments needed reformulation and adaptation of vaccines, and the initial development of the precise delivery systems required needed high levels of investment.
* * * * *
Latest IDAL injector
The introduction of the new Porcilis PCV ID vaccine coincides with a second-generation version of the MSD's needle-free injector, the IDAL 2G. This has been designed to administer a 0.2ml dose of vaccine into the dermis of any size of pig, including sows.
In just 40 milliseconds, the vaccine is forced at high pressure into the skin of the pig, where it can immediately get to work stimulating an immune response as efficiently, or better than, conventional IM vaccination.
The biggest innovation with the new device is the addition of Bluetooth connectivity to allow the IDAL to communicate with a dedicated management app that's available for both Apple and Android smartphones and tablets.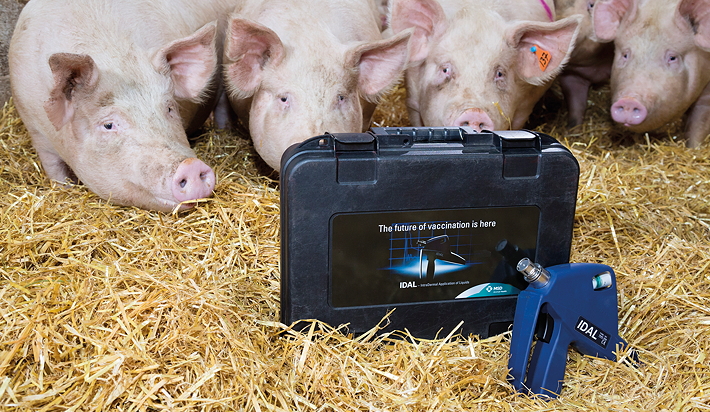 This means it's now easier to track and monitor the data held within the injector, including: the number of doses per bottle; the total doses remaining in the bottle; the number of doses until the IDAL needs to be serviced; and any maintenance notifications about the device.
A new long-life battery means that the IDAL 2G can now give as many as 1,000 shots between recharges, and the service interval for the unit has been increased by 20% to 12,000 treatments.
With biosecurity in mind, the IDAL 2G's carrying case has also been upgraded and can now withstand pressure washing and disinfection, both inside and out.