While pig producers have received some encouragement on pig price of late, wheat prices continue to soar to new highs.
AHDB was quoting feed wheat for May at £361/tonne today, following another spike, this time caused by India's decision to ban wheat exports.
India, the world's second largest producer of wheat, banned all exports with immediate effect on Friday after a heatwave affected the crop. The Government is concerned about the impact of rising global wheat prices since the start of the Ukraine war and is looking to protect its domestic prices.
Even though India consumes most of the wheat it produces, it had set a goal of exporting 10m tonnes in 2022-23, aiming to cash in on the higher prices and extra demand for its wheat in Europe, Africa and Asia, the Guardian reports.
India's Commerce Secretary B.V.R. Subrahmanyam told reporters on Sunday that the country's wheat production has dropped by 3 million tons from 106 million tons last year, as a result of the heatwave, resulting in prices surging by 20% to 40% in India, MarketWatch reports.
Wheat futures have shot up around the world on the back of the news. "India is not a big wheat exporter, but the fact that a big country scrambles to secure food supply left the market anxious with wheat prices up around 5% this morning," analysts at Danske Bank, said in a note to clients on Monday.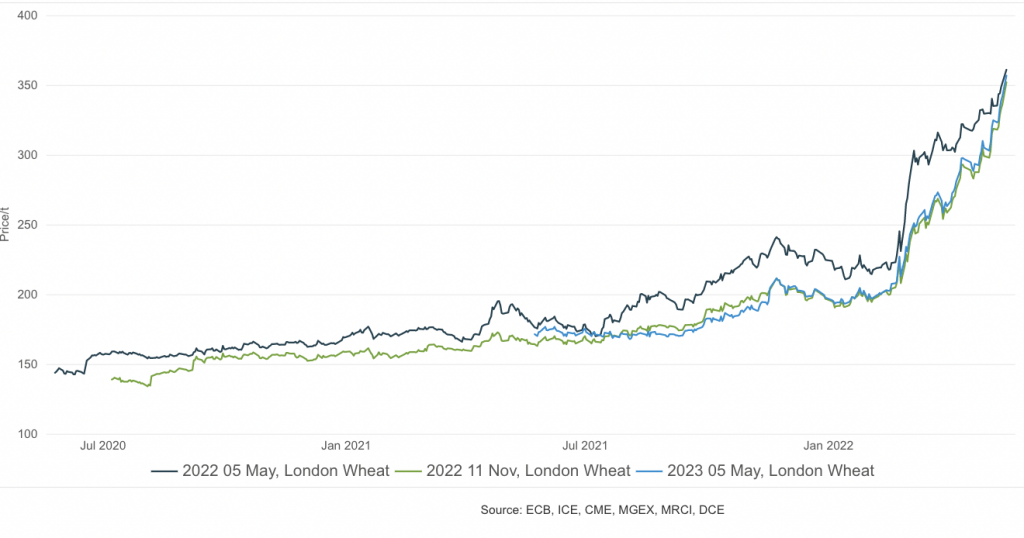 The wheat price has now increased by more than 50% since Russia's invasion of Ukraine in late-February, when it stood at an already inflate figure of around £220/t, leaving pig producers facing unprecedented costs of production.
Earlier in the month, AHDB reported that pig producers lost, on average, a staggering £58/head during the first quarter of this year, based on average costs of 207p/kg.
As wheat and other input costs have soared since, it said estimated average costs in April of around 230p/kg. That was before the latest wheat price spike, suggesting the costs of producing are going to go higher still, and reiterating why it is so important that pig prices continue to rise.