Pig producers lost, on average, a staggering £58/head during the first quarter of this year, amid warnings that the cost of production has increased significantly since. 
With pig producers having lost an estimated £500m since October 2020 and the situation deteriorating further, with costs currently estimated at 230p/kg, the latest AHDB quarterly cost of production and margin estimations highlight yet again why it is so important that the big retailers, particularly Tesco, make more effort to get money through the chain to pig producers.
The data shows that the full economic cost of production for 2022 Q1 has risen to an estimated average of 207p/kg deadweight, compared with 193p in Q4 2021. This has been entirely driven by a further hike in estimated feed costs, up from 134p/kg in Q4 to 148p in Q1, with feed now accounting for 71% of total cost. For context, the figure for feed in Q1, 2020, more normal times, was 90p/kg.
With the APP averaging 146p/kg during the quarter, this equates to average losses of 61pkg, or £58/head, more than double the crippling losses of the first half of 2021 and up from -£39/head in Q4.
The APP has risen since then, reaching 171.6p/kg in the week ending April 23, but, unfortunately, so have costs.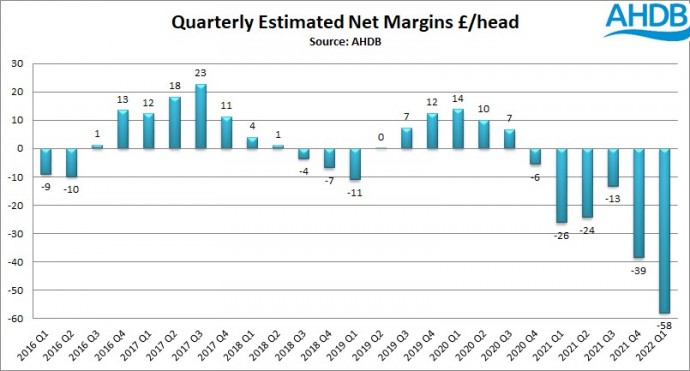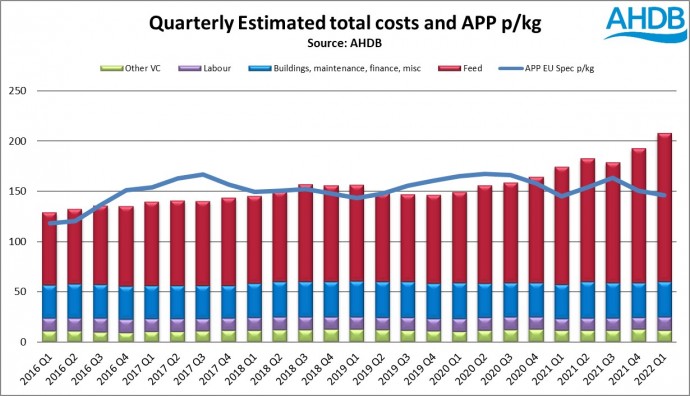 "With feed, energy and fuel costs increasing throughout the period, this average masks that by the end of March the estimated cost of production reached up to 216p/kg deadweight, as reported in a recent AHDB article," AHDB analyst Carol Davis said.
With feed prices continuing to rise, and no indication that they will be dropping anytime soon, the full economic cost of production is estimated to have reached 230p/kg deadweight by April, assuming the same performance as for the 12 months ending March 31 2022.
With pig producers experiencing negative margins since October 2020, it is estimated (based on the total pig slaughter numbers to April 2022) that the industry have lost over £500m since October 2020, Ms Davis added.