Top-end retailer Waitrose has pledged to increase the price it pays its farmers for pork to help producers get through the current crisis.
It will be putting in a base price that aims to ensure its farmers won't be disadvantaged by the falling pig price, rather than, it said, 'cutting the price of the pork we sell and putting on promotions to take advantage'.
The retailer, which is supplied by BQP-Pilgrim's and uses entirely outdoor-bred pork, said paying a fair price for our pork is 'the only way to save the UK pig sector's bacon this Christmas'.
Waitrose senior agriculture manager Jake Pickering said: "Our farmers are key partners in the success of our business and true pioneers of leading food and animal welfare standards in the UK.
"Their dedication to and delivery of these standards not only deserves our recognition but our backing, too – particularly through the tough times, just as they have stood by us to deliver food on our plates through a global pandemic.
"Although we have a long-standing payment model that takes into account the cost of production, during these unprecedented times, our farmers need even more support. This is why we pledge to add new measures over the coming months to help increase the price our farmers receive for their livestock."
"There will be lots of places to get gammon, pork chops, bacon and ham this Christmas. But paying the lowest price could mean compromises both in terms of the standards the meat is reared to, as well as how it might impact the farmers that reared it.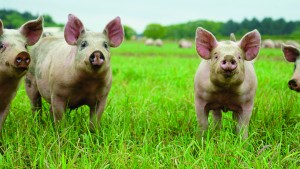 "This is why we hope the public will opt for Waitrose pork this Autumn/ Winter. Not only would it be a vital lifeline to many of our farmers, their support could help encourage the rest of the industry to follow suit and ensure that we safeguard the futures of Britain's pig farmers."
Setting out the problems the pig sector faces, he said a labour shortage of skilled workers combined with increased difficulties in exporting has left pig farmers with a growing backlog of pigs. And with supply significantly outweighing levels of demand, the price farmers are now getting for their product has 'severely plummeted'.
"While some have taken this as an opportunity to offer price cuts and promotions, and while this might help with the backlog in the short term, a longer-term strategy is going to be needed over the next three months," he said.
"We have always had a strong sense of right and wrong, particularly when it comes to animal welfare, and that's why we rear our pigs differently. Our stance is different. But it's not just our animal welfare standards that we take pride in – equally important is the welfare and livelihoods of our farmers, which is why we always strive to pay a fair price for what they produce."
Reaction
NPA chief executive Zoe Davies welcomed Waitrose's 'recognition of the dire situation facing pig producers at the moment and its commitment to a base pig price'.
"The British pig industry is currently facing a catastrophic combination of events –  a backlog of pigs on farms, record feed costs and falling pig prices. As a result producers have been losing more than £25/pig, on average, for much of this year, a financial position that could worsen for many in the coming months.
"We are losing producers from the industry as a result and it is great to see Waitrose, which has always been a strong supporter of the British pig industry, taking action to back producers in their moment of need.
"Retailers have a big role to play in helping the industry through this crisis – we hope to see similar commitments elsewhere."
The NPA wrote to all the major retailers in October asking how they were supporting producers at this time – you can read their responses HERE.
NFU president Minette Batters said: "The challenges the pig sector has faced into over the last few months is unprecedented, so the support Waitrose is offering to raise the baseline its farmers will be paid over the coming months is appreciated.
"It's no exaggeration to say that Britain's pig farmers are in a state of crisis. So as well as encouraging the meat eating public to go out and buy British pork, it's equally vital that UK retailers continue to support our farmers and in the right ways. If not, it could have very far reaching and severe consequences."