Tulip has invested £20,000 of its Apprenticeship Levy to support two farming apprentices at Hart Farm, in Norfolk.
The funding will support the training for two stockperson apprentices for 18 months, with on-site training being provided by Easton and Otley College.
Developed by farmers for practical use on farms and in this case with a focus on pigs, the role will train the apprentices to raise animals with optimal welfare and consideration for their needs throughout the different stages of their life.
The two apprentices are Lily McIntosh and Evie Wilkes, both aged 17. Evie (main picture) said: "I really enjoy working outside with the pigs and have loved farming since I was a child. I see the apprenticeship as a real opportunity to learn while I am earning and hope it will open up new opportunities for me within the farming industry".
Lily (pictured below) added "I am really excited about starting my apprenticeship and being given the opportunity to learn whilst gaining valuable experience on the farm. I really love working with the pigs and will hopefully will have my own pigs someday."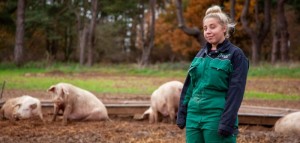 Tulip said it was one of the first food manufacturers to reinvest the funds and stressed its committed to supporting the agriculture community to 'upskill and develop the next generation of farming talent'.
Andrew Saunders, Agricultural Director at Tulip, said: "As the country's largest pig farmer and producer of pork, its imperative that we continue to invest in our fully integrated supply chain and support our farming partner.
"Bringing in new talent is important for the whole agriculture industry and this apprenticeship funding showcases our desire to work closely with our farmers to ensure they have a sustainable future and can continue to demonstrate innovative and best-in-class farming techniques."
Steve Hart, Owner of Hart Farms, said: "Encouraging young talent to the pig industry is essential for its future and I am personally committed to creating opportunities for people of all ages to learn and develop through apprenticeship programmes whilst being employed on the farm.
"Lily and Evie are a real asset to our team and are also ambassadors to all young people who are considering a career within the pig industry and the many opportunities that it offers."
Hart Farms was established in 1993 and has been working as a partnership supplier to Tulip since 2005.
For more details on the apprenticeships Tulip offers, visit: www.tulipltd.co.uk/careers/career-opportunities/apprentice-scheme/