Some of the biggest pork plants in the world have been temporarily shut due to Coronavirus, prompting fears of 'disastrous' food shortages in the US.
Smithfield Foods, the world's biggest pork processor, warned plant closures were pushing the country 'perilously close to the edge' in terms of meat supply, after announcing on Sunday that it was shutting its Sioux Falls plant, in South Dakota. The facility is one of the nation's largest pork processing facilities, representing 4-5% of US pork production, the company said.
South Dakota Governor Kristi Noem said 238 employees out of approximately 3,700 workers at the plant had active cases of coronavirus, accounting for 55% of the state's total, Reuters reported.
He and the mayor of Sioux Falls had recommended the company shut the plant for at least two weeks.
Other major US meat and poultry processors, including Tyson Foods Inc, Cargill Inc and JBS USA have already suspended operations in plants in other states.
Deaths have been reported for employees at meat facilities owned by JBS and Tyson Foods, Time reported. Workers have, staged walk-outs to protest working conditions, it added, highlighting the difficulties in complying with social distancing guidance in meat plants, where work stations on processing lines can be close together.
Workers in other points of the food-supply chain have also started to get sick, the Time article added.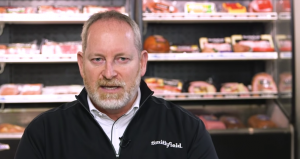 Smithfield chief Executive Ken Sullivan said: "The closure of this facility, combined with a growing list of other protein plants that have shuttered across our industry, is pushing our country perilously close to the edge in terms of our meat supply.
"It is impossible to keep our grocery stores stocked if our plants are not running. These facility closures will also have severe, perhaps disastrous, repercussions for many in the supply chain, first and foremost our nation's livestock farmers.
"We have a stark choice as a nation: we are either going to produce food or not, even in the face of COVID-19."
Smithfield said it will resume operations in Sioux Falls after further direction from local, state and federal officials. The company said it will pay employees for the next two weeks.