In September, shipments of fresh/frozen pork were up 8% on the year, at 21,500 tonnes. While September did record year on year growth, it was not as strong as the growth seen in recent months.
Average export prices were considerably higher (27%). As such, the overall export value of pork reached £36.5 million, nearly 40% more than in the previous year.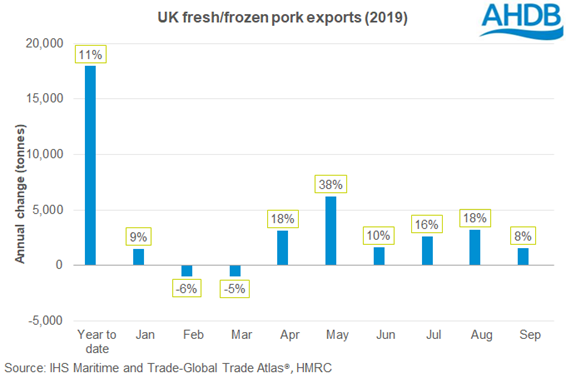 Unsurprisingly, China accounted for the majority of the growth as the outbreak of African swine fever supports demand for imported product. In September, shipments of UK pork to the nation was more than twice that of last year.
Exports to the Netherlands increased by 75% in September. This could be due to the Rotterdam effect, as UK products are exported to some non-EU countries via the Netherlands.
Overall, UK imports of pig meat, including offal and processed products, were relatively steady on the year, at 79,500 tonnes in September. However, in contrast to the past four months, imports of fresh/frozen pork recorded a 10% (3,800 tonnes) increase on the year. The rise in primary pork imports was offset be a decline in bacon and processed pork products.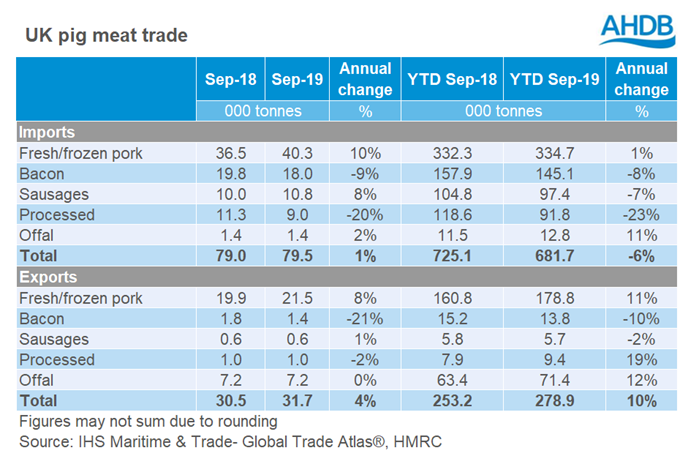 The majority of the uplift in primary pork came from Spain (2,500 tonnes), Poland (1,200 tonnes), Ireland (700 tonnes) and Germany (600 tonnes). However, imports from Denmark, the UK's largest supplier of pork, recorded a 10% (1,200 tonnes) decline on the year.
Despite a slightly stronger sterling: euro exchange rate, rising prices in the EU meant that the average import price of pork were up 20% on the year. As such, the total value of supplies was a third higher than last year, at £92.1m.