GB retail sales of pig meat were down 3.8% in volume and 2% in value, in the 12 weeks ending October 6. Pig meat was not the only red meat to record declines, with sales of lamb down in volume, and beef volumes remaining stable.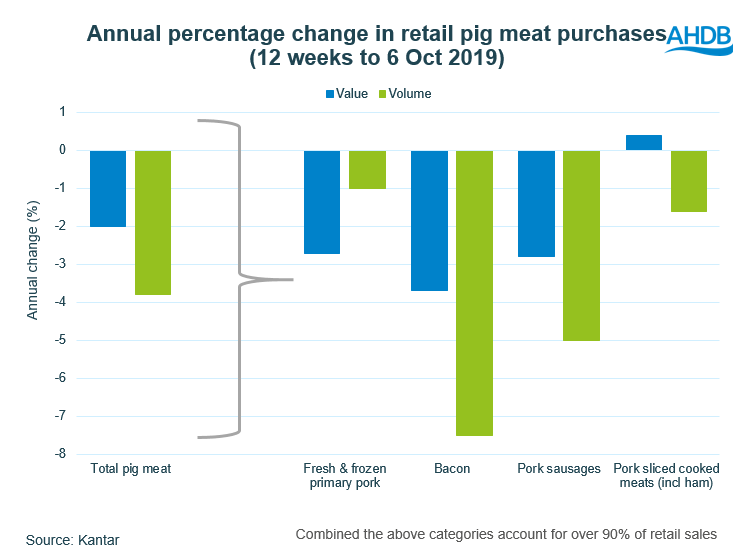 Pig meat
Fresh and frozen primary pork sales decreased 1% year-on-year in volume, while value decreased 2.7%. The large categories of chops/steaks and shoulder joints, recorded declines. In contrast, mince, leg joints and loin joints all recorded increases.
Bacon sales continued to decline, down 7.5% in volume, and 3.7% in value. Sausage sales didn't sizzle, volumes were back 5%. Average sausage prices were up 2.3%, meant that value declined 2.8%. Sliced cooked pork volume sales declined 1.6%, although price increases meant the value increased very marginally.
Lamb
Reflecting the decline in total lamb, fresh and frozen primary lamb sales declined 2.8% in volume, and 2.1% in value. Market penetration declined 1.8%, with the average volume per buyer back 2.0%.
A notable decline came in the chops/steaks category which is one of the more expensive  categories, and accounts for just under a quarter of lamb sales in volume terms, saw volumes decline of 6.5%. Things looked no more positive in the shorter 4 week period.
Beef
While total beef recorded a small rise in volume during the 12 weeks, fresh and frozen primary beef volume sales were back 1.6%, with value down 3.5%. The only primary beef category not to record a decline was mince, recording a 0.5% increase in volume.
However, the average price for mince was down 1.9%, meaning the value recorded a 1.4% drop.
Burgers and grills recorded year-on-year growth during the period, after struggling all summer. While BBQs make up just a small proportion of meal occasions the weather was notably better.
Poultry
Fresh and frozen primary poultry sales bucked the trend compared to the red meats and recorded a 3.7% increase in volume, although at significantly lower average prices. Much of the rise is attributed to an increase in fresh chicken breast sales, with whole chicken sales down.