The Defra and Innovation UK funded FarmSense project is now underway, which will provide farmers with an automated surveillance service to remotely monitor their livestock. 
Led by Innovent Technology, and costing £785,554, FarmSense is a platform that uses image and Volatile Organic Compound (VOC) sensing technologies, alongside artificial intelligence and machine learning, to support farmers in the optimisation of livestock production while ensuring high animal welfare standards.
The platform will continuously analyse animal growth, behaviour and gas profiles, plus day and night patterns; automatically detecting any changes which may indicate early disease onset, tail biting, or unusual eating or drinking behaviours – to provide producers with an insight into the behaviour and weights of animals, while avoiding unnecessary and stressful interventions.
Innovent Technology's business development manager David Barclay said of the project: "It's critical to invest in technology for the pork industry. Projects such as FarmSense allow consortiums like ours to push the boundaries and bring innovation into the sector."
"Our aim is always to bring value to the producer, this system will allow us to identify where potential is being lost in finishing, and monitor the outcome of change to address that loss."
The Cambridgeshire-based company Roboscientific has developed a new generation of VOC sensors which 'sniff' the air surrounding pigs, to detect specific VOC digital fingerprints which are associated with a disease, so that diseases can be identified in real time – the sensor is called the Early Disease Detection Farm Monitor.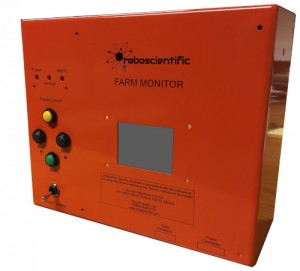 Roboscientific CEO Stan Curtis commented: "We are very excited to be a part of this project. We have already proven our ability to spot diseases in chickens…We believe that this project will allow us to develop a similar Early Disease Detection method for pigs and help farmers to improve the way that they manage their herds."
The platform will be available to farmers through the animal health company Zoetis. With the platform, farmers will be notified in real time of anything unusual, to allow for early and corrective actions to be taken.
New system trials are taking place at Scotland's Rural College research farm, overseen by Rick D'Eath, a senior research scientist in animal behaviour. Follow-on commercial scale trials will then take place within outdoor and indoor production systems that are owned by Cranswick.
The FarmSense project is scheduled to run until April 2024.