Pig prices in the US have been rallying sharply in the last few weeks, while commentators highlight that there is optimism that the African Swine Fever (ASF) situation in China, will relieve the pressure on an otherwise oversupplied market.
On Friday, March 15, China's Ministry of Agriculture and Rural Affairs reported its pig herd had fallen by nearly 17% in February compared with the previous year. Within this, the sow herd also reportedly fallen by more than 19%.
China, home to the world's largest pig herd, has reported over 112 outbreaks of ASF in 28 provinces and regions since August 2018. In reality, the number of outbreaks will be much higher than this; some reports suggest 30-50% of Chinese pig farms have been affected.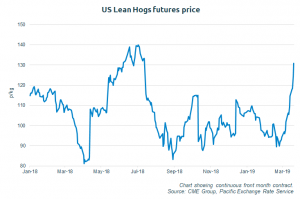 Duncan Wyatt, AHDB's lead analyst, said: "The US Department of Agriculture's attaché in Beijingrecently forecastthat China's total swine inventory in 2019 would fall by 13% to 374 million head, largely due to ASF. This estimate varies drastically from the USDA's official forecast of 441 million head, which would represent a fractional increase over last year. The figures also suggested China's pork production would fall 5% to 51.4 million tonnes in 2019, underpinning demand for more imports."
For UK farmers and processors, this combination of events may have a new significance if the country leaves the EU with no-deal.
Mr Wyatt added: "We would expect a surge in Chinese imports to boost demand for UK product in any case, but the timing could be particularly useful under a no-deal scenario due to the compromised competitiveness of exports to the EU.
"There may also be the added dimension that the proposed temporary no-deal tariff regime could lead toUS pork becoming competitive on the UK market. Over a long enough period, assuming the tariffs remain in place as they are, US prices could have an increasing role to play in price setting in the UK."