EU pork exports strengthened at the turn of the year, with January figures showing a 9% (+18,000 tonnes) increase compared to the same month in 2018, reaching 201,000 tonnes. The total value amounted to €444.3 million, up 5%.
Increased volumes were largely destined for Asian markets, with the importance of China among EU export markets now increasing again (exports up by 9,300 tonnes). The share of EU pork exports going to China reached 36% during the month, two percentage points higher than last year but still seven percentage points lower than in January 2017. Similarly, Japan picked up 4,200 tonnes more, although South Korea was down by 2,800 tonnes.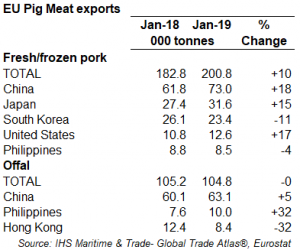 AHDB analyst Bethan Wilkins said: "The large increase in demand from China reflects the disruption that African Swine Fever is causing to domestic production. The US is also less competitive on this market now, due to the additional 50% tariff applied by China to its pork products. The increases in EU exports to China more than offset an 18% (1,200 tonnes) decline in shipments to neighbouring Hong Kong."
Anecdotal reports suggest Chinese import demand has continued to escalate in recent weeks, and the US market is trading as if import demand will be sustained at much higher levels. Further growth may become evident in the February data and beyond.
Ms Wilkins added: "In contrast, at 104,800 tonnes, pig offal exports were about the same as the previous year. There was a rise in demand from a number of markets, including China (+3,000 tonnes), the Philippines (+2,400 tonnes), Vietnam (+2,300 tonnes) and the Democratic Republic of Congo (+1,100 tonnes). However, declines from other markets, particularly Hong Kong (-4,000 tonnes) and Japan (-3,000 tonnes), offset this."