UK pig producers were, on average, almost back in the black over the first three months of this year, the latest net margin figures from AHDB show. 
The full economic cost of production for Q1 2023 was estimated at 213p/kg deadweight, slightly higher than the average price over the period, resulting in averages losses of £1/head.
While this represents the 10 successive quarter of negative margins, during which time hundreds of millions of pounds have been lost, with a huge knock-on effect on the UK breeding herd, it is an improvement on successive 2022 margins of -£58, -£52, -£23 and -£17.
The Q1 figures estimated that the cost of production fell by 11p/kg from the Q4 2022 figure of 224p/kg. The biggest factor was a 15p drop in feed costs to 139p/kg, which made up an estimated 65% of total costs in Q1, compared with up to 73% in 2022. In reality, this has impacted different producers in different ways, depending on the extent to which they bought feed ingredients forward at higher prices.
We have also seen a drop in the cost of fuels from highs seen in 2022, which has helped reduce transport costs. However, interest rates, including mortgages, have risen throughout the first quarter of 2023, placing increased pressure on building and related finance costs, while costs associated with electricity and gas also 'remain stubbornly high', AHDB analyst Isabel Shohet said.
These estimates use the latest performance figures for breeding and finishing herds for the 12 months ending 31 March 2023.
Pig prices stabilised to 211p/kg (APP), resulting in average losses of 2p/kg and £1/head, on that basis, while the SPP averaged 208p/kg. These figures are an average across the quarter.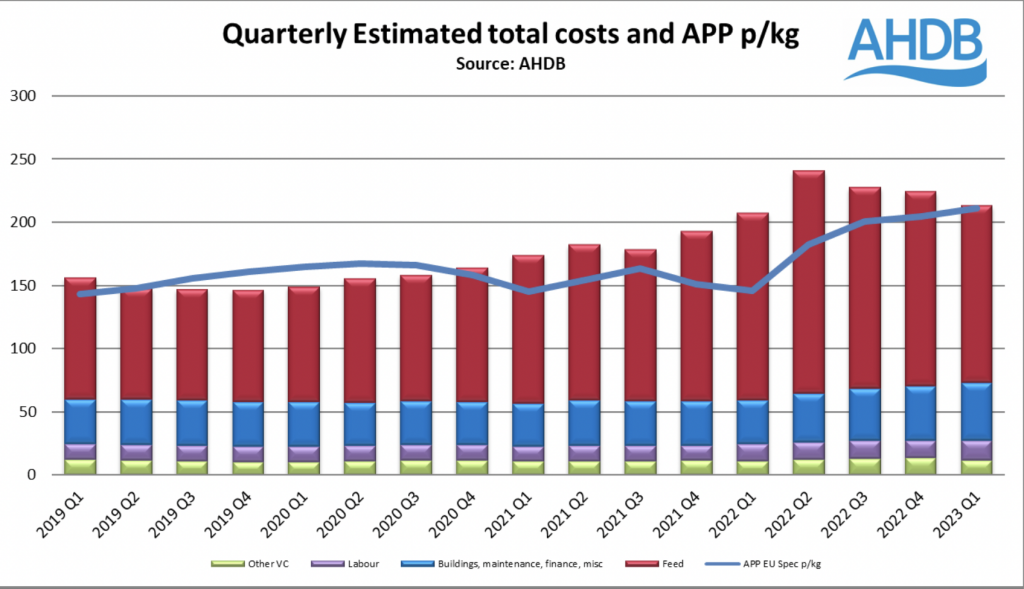 Pig prices have gained momentum throughout the first quarter of the year, reaching all-time highs, with the APP hitting 217p/kg by the end of the quarter, gaining 13p over the three months, suggesting producers would, on average, have been in profit by the end of it.
Prices have continued to rise since – the SPP topped 220p/kg for the first time in May, with the APP also hitting that mark. Meanwhile, wheat prices have continued to fall from around £200/t at the end of Q1 to around £180/t today.
This strongly suggests Q2 will finally see a return to profit for the UK pig sector. There is still, however, a very long way to go to recoup the losses that have built up during the previous 10 quarters.