Agriculture ministers from Denmark, The Netherlands, Sweden and Germany have signed a joint declaration that outlines the way forward for pig welfare in Europe, writes Pig World editor Graeme Kirk.
Germany's Christain Schmidt, Sweden's Sven-Erik Bucht, Denmark's Dan Jørgensen and The Netherland's Sharon Dijksma signed the declaration at the end of the first day of the International Conference on Pig Welfare taking place in Copenhagen.
Mr Jørgensen said the four wanted to raise standards together, and that the document would be a focus for efforts to try and prompt new EU legisiation that would allow the trading bloc to maintain its lead in animal welfare.
"We need realistic solutions to help penetrate the walls of the European Parliament building in Brussels," he said. The declaration was made up of action points on seven topics that followed on from Denmark's Pig Welfare Summit in March 2014, meeting that was called by Mr Jørgensen. The topics were:
Mortality and welfare in the farrowing unit
Castration of piglets
Tail docking of piglets
Promoting sustainability and pig welfare: is it possible?
Market driven animal welfare – the role for retailers and consumers
Animal welfare education and training – how, for whom and to what effect?
Transport of pigs and animal welfare
The International Pig Welfare Conference's 400 delegates split into seven workshops to discuss each issue and decide the important
action points that should be passed to Brussels for action.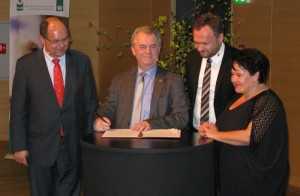 Four of the EU's agriculture ministers – Germany's Christain Schmidt, Sweden's Sven-Erik Bucht, Denmark's Dan Jorgensen and The
Netherland's Sharon Dijksma – signed the declaration representing the way forward for the pig sector on animal welfare.
"This conference is an opportunity for academics, experts, NGOs and international stakeholders in the field of pig welfare to discuss
the strategies on bow to move forward on pig welfare – not only for Denmartk, but for pig production throughout the world," Mr
Jørgensen said. "I beleive this is an obligation we have not only to the animals in our barns, but to each other."
"I believe that the political momentum for improving the welfare is present, and now is the time to take advantage of it."