EU pig prices increased during December, with Germany leading the way, offer welcome support to UK pig prices.
EU deadweight prices for December for the five weeks ending January 1 averaged 177.54p/kg, an increase of 5.35p/kg, 3.1%, on prices seen in November (four-weeks November 27).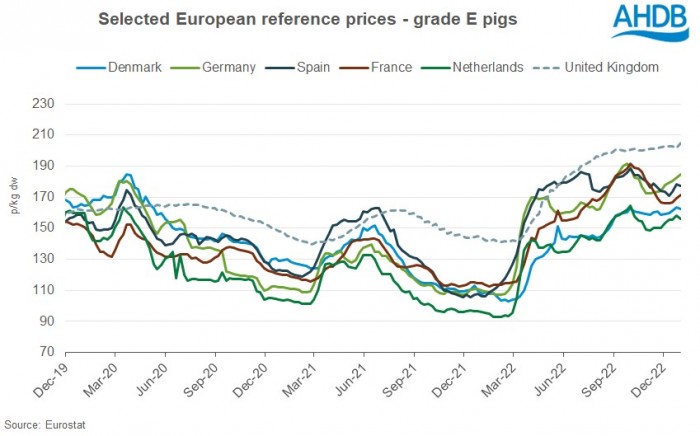 Within this overall uplift there was price variability across the key producing regions, with Germany, the Netherlands and Denmark reporting increased prices, but France and Spain seeing a softening of prices. Germany saw the largest price increase during the five-week period, up an average of 7.7p/kg (4.4%). In comparison, France saw the largest decline, down an average of 4.0p (2.3%).
Continental prices continued to remain below UK prices during the five-week period, with UK pigs averaging 25.36p/kg more than the average EU-27 price. The EU reference price, as of January 1, 2023, at just short of 180p/kg, was 24.7p behind the equivalent UK price.
The EU medium term outlook is anticipating the pig meat prices will remain contained after the price spikes seen in 2022, said AHDB trainee analyst Charlotte Forkes-Rees.
"EU consumption is anticipated to ease by 4% over the next 10 years, and production to reduce by 1% per year. With adjustments to production, and potential for further ASF outbreaks in Asia, whilst prices are anticipated to ease, this could be at a slower rate than initially predicted," she said.