The Animal and Plant Health Agency (APHA) has reiterated its warning to travellers about not bringing pork products back into the country as COVID-19 travel restrictions begin to ease.
The agency's latest European African swine fever (ASF) assessment highlights how the virus continues to spread in wild boar and domestic pigs in Europe – 45 cases had been recorded in domestic pigs across Europe and 465 in wild boar in June (up to the 24th). In May, there were 45 cases in domestic pigs and 909 in wild boar.
The highest number of ASF cases are being reported in Hungary (223 wild boar in June), Poland (3 domestic, 153 wild boar) and Romania (35 domestic, 33 wild boar).
Since the end of March, there have been nearly 900 cases in wild boar in Poland, including some less than 20km from the German border, the closest being 17km, in the district of Zarski. There have been three outbreaks in domestic pigs in the west of the country, including one on a large commercial holding of 10,000 pigs.
Hungary has seen around 1,500 cases in wild boar during the period, while there have been more than 100 domestic cases in Romania, the largest on a premises 92km north west of Bucharest with just over 7,000 pigs.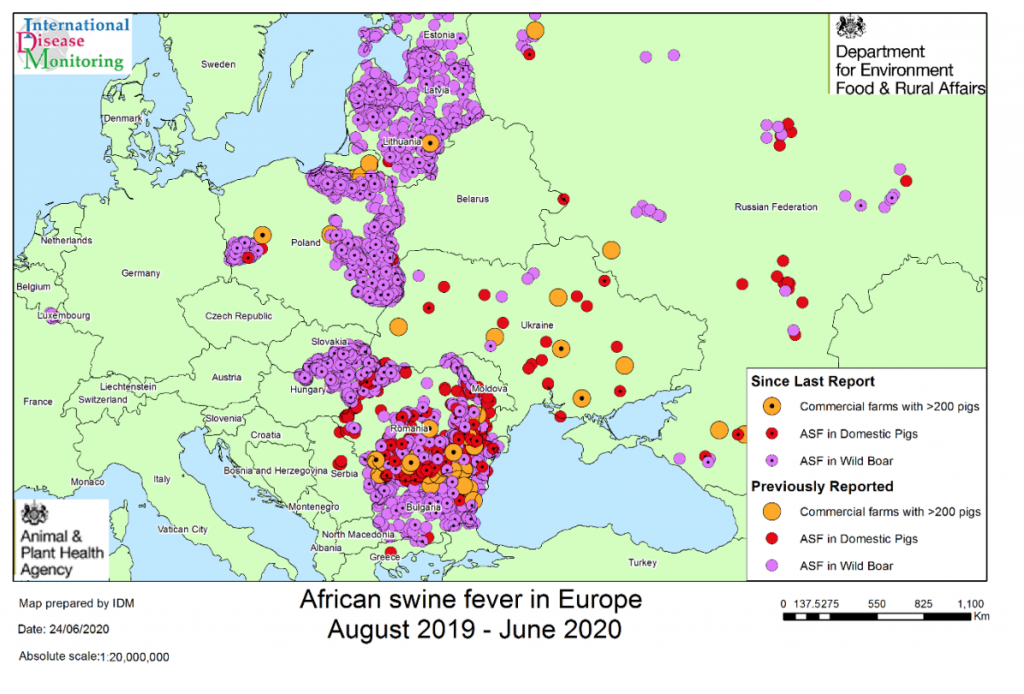 Since March, Russia has reported six outbreaks in domestic pigs, four in the west of the country and two in the east. Most were reported to the OIE as being backyard premises.
Belgium has had no further reports of ASF since March 10.
UK risk
The current risk of introduction of ASF to the UK remains at medium for the entry of contaminated or infected products into the UK at present.
The agency notes that the limited number of flights in Europe due to COVID-19 has made the introduction of ASF from personal imports or fomites less likely, although there has been a significant increase in wild boar reports over the last few months.
But it said: "Relaxing COVID-19 movement restrictions of people within affected countries could now begin to impact on disease reporting. Therefore, there still remains a risk of entry of ASFV in products of animal origin from affected countries via other pathways, including from illegal imports.
"All travellers are strongly advised to avoid bringing any pork products – for example, dried or cured meats, sausages, salamis or pâté – back to the UK from affected parts of Europe. Travellers from Asia and other third country areas who bring meat or dairy products can also face prosecution and a large fine."
The agency has also reiterated other key ASF advice:
All pig keepers, pig producers, smallholders and general public are reminded of the need to ensure pigs are not fed catering waste, kitchen scraps or pork products, thereby observing the swill feeding ban.
All pig keepers should remain vigilant and ensure that any visitors to their premises have not had any recent contact with pigs or pig premises in the affected regions.
People returning from any ASF-affected areas of the world should avoid any contact with domestic pigs in commercial holdings, smallholdings or even household pet pigs. Habitats where feral pigs or wild boar exist should also be avoided.
All clothing, footwear or equipment should be disinfected before entering pig areas.
Pig keepers and veterinarians should remind themselves of the clinical signs for ASF. Any suspect cases must be reported promptly. Click here for more information .