A campaign designed to champion the value of the UK veterinary team has been launched today by the British Veterinary Association (BVA) and British Veterinary Nursing Association (BVNA).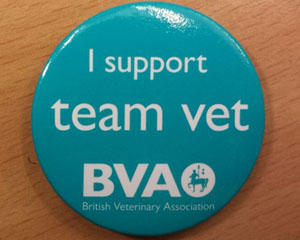 Called "I support team vet" the campaign has been put together in response to the EU referendum result, highlighting the fact that the UK veterinary profession relies heavily on EU graduates, with around 50% of veterinary surgeons registering to practise in the UK each year coming from overseas.
"Brexit has brought issues like the value of the veterinary team and workforce into sharp focus," said BVA president, Gudrun Ravetz.
"At this time, it has never been more important for the veterinary family to pull together and emphasise the invaluable contribution that veterinary teams across the UK make across all areas of veterinary science, including the fields of animal health and welfare, animal disease surveillance, scientific research and education, wildlife conservation, and public health and food safety."
Coinciding with the campaign launch, BVA Honorary Associate, Jim Fitzpatrick MP, has tabled an early day motion in Parliament to highlight the value of the veterinary profession in protecting animal health, welfare and public health and calling on the Government to work with BVA and RCVS in forthcoming Brexit negotiations.