The publication of the O'Neill report last May has set in motion a process that will shape how we manage pigs' health in the UK in future.
In response to the report, which warned of 10 million deaths a year from antimicrobial resistance (AMR) unless action is taken in human and animal medicine, the Government asked the Responsible Use of Medicines in Agriculture (RUMA) alliance to lead the process of setting targets for the UK livestock sectors.
It established a Targets Task Force (TTF) made up of representatives from across the sectors, with pigs represented by National Pig Association (NPA) chairman Richard Lister and Pig Veterinary Society (PVS) president Mark White.
What are the new targets? 
The headline from the announcement at a special RUMA conference in London was that the pig sector is required to reduce overall antibiotic usage by 62.4% by the end of 2020 from a 2015 baseline level of 263.5mg/PCU (Population corrected units).
The following staged targets for the pig sector have been laid out in a report by the TTF:
Year 1 reduction 35%: 2016 target 171mg/PCU
Year 2 reduction target 25%: 2017 target 128mg/PCU
Year 3 reduction target 10%: 2018 target 115.5mg/PCU
Year 4 reduction target 10%: 2019 target 104mg/PCU
Year 5 reduction target 5%: 2020 target 99mg/PCU
The 2015 baseline figure was based on the average of two estimates, the eMB-Pigs figure of 278mg/PCU and the estimated sales figure for the year of 249mg/PCU. 
Future industry-wide antibiotic use will be monitored via eMB-Pigs, but it is yet to be decided how, and by whom, individual farm usage will be monitored. However, the report noted that the highest users 'may have to bear a disproportionate share of the total planned reduction'.
The TTF report, which outlines targets for each sector, can be viewed here
Progress made already 
A big part of the story for pigs is the significant reduction in usage already recorded last year, as highlighted by the aggregated data collected from pig producers via the voluntary eMB-Pigs database, developed by AHDB.
This data, extracted from the database in September, covered 61% of slaughter pigs in England for 2015 and 70% for 2016, based on Defra slaughter data. For the UK, the figures covered 56% of 2015 production and 62% for 2016.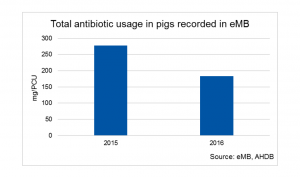 It showed that total recorded antibiotic usage in pigs fell by 34% to 183mg/PCU in 2016 from 278mg/PCU in 2015. These figures have been backed up by anecdotal reports from the marketplace, with large reductions, in particular, reported in sales of high volume in-feed products.
They have also been reinforced by the publication by Defra of the 2016 UK Veterinary Antibiotic Resistance and Sales Surveillance (VARSS) report showing sales of antibiotics for use in all food-producing animals have dropped by 27%, from 62mg/kg in 2014 to 45mg/kg in 2016. Down from 56mg/kg last year, this is the lowest level since records began in 1993 and already surpasses a government target of 50mg/kg for 2018.
Sales of antibiotics for pigs and poultry fell by 41% from 214 tonnes to 127t and sales of pigs-only antibiotics fell by 22t from 50t to 39t in 2016, the VARSS report showed.
Critically important antibiotics
The eMB data showed that use of critically important antibiotics (CIAs), which are also important in human medicine – fluoroquinolones, third and fourth generation cephalosporins and colistin – also fell significantly in 2016.
Use of CIAs fell by 73% to 0.3mg/PCU in 2016, representing just 0.1% of overall usage.
Colistin usage fell by 75% from 0.9mg/PCU to 0.2mg/PCU (VARRS data showed an 83% drop in sales).
Use of fluoroquinolones and third and fourth generation cephalosporins halved to 0.05mg/PCU and 0.01mg/PCU respectively.
Recorded usage fell across nearly all antibiotic classes between 2015 and 2016, with the biggest category by use, tetracyclines, seeing a 20% drop.
There is no proposed specific targeted reduction for CIAs. It is 'anticipated' that the existing 'very low' level of use will not rise above levels of 0.1mg/PCU for fluoroquinolones and 0.015mg/PCU for third and fourth generation cephalosporins – 'subject to disease control requirements and to ensure health and welfare'.
Only individual treatment preparations of these products have ever been available for pigs in the UK, but both remain vital tools for treating specific conditions, the TTF report said.
It is understood that no colistin has been imported for commercial sale in the UK since mid-2016, with usage now believed to be negligible. But the report said colistin 'should remain available in case of serious disease issues, for which its use is vital'. It suggests a 'maximum use target of 0.1mg/PCU', which may need to be reviewed depending on the availability of therapeutic zinc oxide.
How will the targets be achieved?
The report highlights how some producers have made reduced antibiotics by a combination of attitudinal change, improved vaccination, disease elimination strategies, better biosecurity, husbandry changes, investment in infrastructure and moving away from in-feed medication.
It said the need for 'targeted prophylaxis', preventative medication in the short to medium term in response to specific disease challenges, will remain to protect the health and welfare of pigs – particularly where no vaccines are available or producers faced persistent problems 'that prove intractable to non-antibiotic interventions'.
But habitual or routine prophylaxis (a 'just in case' approach) 'should be rapidly phased out', the report suggested.
But metaphylaxis, the treatment of whole groups of pigs once disease has occurred in some of that cohort, will remain 'a fundamental requirement to ensure health and welfare in pig populations', the report added.
Addressing one of the pig industry's biggest concerns, it stressed that monitoring of health and welfare will be essential and, if problems arise, the targets will need to be reviewed and, possibly, amended.
Anecdotal evidence from other countries, such as the Netherlands, suggests reductions of 70% or more made too quickly 'can lead to unacceptable health and welfare compromise in individual farms and this must be avoided'.
The report stated: "It is agreed by all significant stakeholders that health and welfare of pigs cannot be sacrificed for reduced antibiotic usage per se. It is anticipated that the approach suggested will lead to fundamental changes in attitude and practice on pig farms, which will have economic and welfare consequences."
Potential constraints
The report also highlighted factors that could undermine progress towards the targets. These include:
The proposed zinc oxide ban from 2022, which may require increased antibiotic use to control post-weaning disease associated with E. coli and Salmonella
New or re-emerging diseases
UK restrictions on the use of oral powders 'top dressed' on to feed to target specific groups of pigs, a system 'widely used' in many European countries instead of in-feed medication. VMD is encouraged to review such restrictions

   

Vaccine availability. In recent years the pig industry has been plagued with regular interruptions to supply of certain vaccines
Antibiotic availability. As use declines, the economic viability of supplying products into the UK market may be compromised, which could increase resistance selection pressure on remaining products
The impact of Brexit, including potentially reduced UK medicinal product availability, including vaccines.
Further reductions beyond 2020 will be considered 'closer to that time, dependent upon progress made, health and welfare of the national herd, developing technologies and economic considerations'.
Why the UK pig sector is a high user of antibiotics
The report acknowledged that UK pig industry, in common with commercial pig production worldwide, is a high user of antibiotics, the highest among all livestock sectors. Specific reasons include:
Disease challenges for which vaccines are not available, reliable or economically attractive

Continuous production systems at different points within the cycle allowing enzootic disease to continuously recycle

Major diseases affecting immunity like porcine reproductive and respiratory syndrome (PRRS), Mycoplasma hyopneumoniae and porcine circovirus associated disease (PCVAD)

Variable or inadequate vaccinal control

High proportion of UK pigs kept on straw bedded systems, creating hygiene challenges and increased faecal/oral recycling

Old buildings and poor environmental control systems, with pressures on farm margins and planning constraints limiting ability to invest in infrastructure and husbandry techniques

 

Inadequate internal and external biosecurity measures

Geographical clustering of pig farms

Ease of medication via feed and cheap medication via feed route

Limitations on water-based medication application

Habit and fear of consequences of withdrawal.
Targets for other sectors
The TFF set targets across the sectors:
Dairy: 20% reduction by 2020
Beef and sheep: 10% reduction by 2020
Chicken: Usage figure of 25mg/PCU from 2018 to 2020 (not a reduction but British Poultry Council says sector has already cut usage by 71% between 2012 and 2016)
Turkey: 50mg/PCU from 2018 to 2020
Eggs: Total bird/days medicated to remain below 1%
Gamebirds: 25% reduction in 2017, further 25% by 2020
Fish: Overall usage to be maintained at current low levels