AB Leamon & Son is a family-owned and run pig farm established in 1957. Simon King met Chris Leamon, who runs the Essex farm with his brother Rob
AB Leamon & Son operates on a farrow-to-finish basis, with 330 indoor breeding sows. The unit is based on a 20-acre site consisting of a number of buildings.
Central to the farm's recent growth was the introduction of milk cups. Located within farrowing pens, the cups are considered imperative for future farm growth at AB Leamon, given their potential to enable a greater number of piglets per sow to survive and deliver greater weaning weights, and better daily growth as finishers.
In 1993, the Leamon family invested in a big expansion, taking the number of sows from 220 to the current 330 and installing a Weda multiphase liquid feeding system across the whole finishing unit, an investment that cost more than £300,000.
Chris Leamon said: "We only had 20 acres of land as collateral. If we had more collateral, we would have put that into putting the finishing sheds up, but it took us until 2001/02 to get the finishing capacity we wanted. At 1,600 finishing spaces, we are under the IPCC 2,000 finishing spaces threshold. It's not worth the paperwork that is involved if we wanted to increase capacity any further."
The farm started three-week batch farrowing in 2003 to combat porcine dermatitis and nephropathy syndrome (PDNS) and post weaning multisystemic wasting syndrome (PMWS).
Breeding sows are housed on straw, while farrowing, grower and finishing houses are fully slatted. The farm has a progressive outlook on pig production and was one of the first UK units to install a milk cup system within the farrowing houses.
Chris said: "Milk cups are used within the system to support lactating sows and their piglets. The use of rescue decks and nurse sows is not needed, except in an absolute emergency – 17 weaned is not unusual."
The business did very well with the milk cups, which took it to a new level. Initially, however, they had problems with the cleaning regime.
Chris explained: "Milk consumption went down. We record all the milk consumption and we know from one batch to the next how well we're doing. We first thought that it was a stockman problem, but in reality, what had happened was that yeast was growing in the milk line, so we had to invest in a new cleaning regime.
"We talked to Andrew Zarkos-Smith about the problem and he suggested that we use Endosan – and that made all the difference."
From October 2016 to April 2017, milk consumption rose from an average of 5.74 litres/piglet to 8.41 litres/piglet. The trend continued into 2018, with 16.71 litres of milk/ piglet consumed in June, as pigs drank more during the hot summer.
Chris said: "Since June 2018 we have been more active in creep feeding and reduced milk usage to 12.5 litres, but have maintained weaning weights, which has reduced our feed costs per piglet."
As a direct result of the increased milk uptake, weaning weights have continued on an upward trend. For 2018/19, litter weights – on every third batch weighed – have averaged around 120kg at 27 days old, with numbers of weaned piglets ranging from 12.64 to 13.95.
In 2018, trainee Tom Mapes, who was named Trainee of the Year alongside his wife Cassie at last year's National Pig Awards, started to train the piglets to use the milk cups. When the new farrowing houses were designed, Chris said it was important where the milk cups were located – the key was to make it easy for piglets to find and staff to monitor.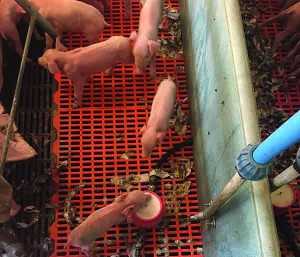 He said: "The milk cups are located beside passageways. We know a lot of people have different systems – many only have one passageway, which means the sow's head might be facing the wall.
"The ideal place to put the cup is by the sow's head, but if you only have one passageway, the stockman will have to walk into every pen to do the job. For us, the job only adds two or three minutes on the walk round. With the milk cups, I've had farmers from Ireland, Switzerland and Holland come to see it. "Since the introduction of the milk cups, we are selling the pigs 2kg or 3kg heavier and they are getting there a week to 10 days quicker."
The farm starts the piglets with milk at two days but when they get to around 12 days old, they are swapped onto a pre- shake, and, at day 20, pigs are moved over to porridge, which all helps to acclimatise the stomach to be able to handle more complex proteins and carbohydrates. All diets are from Zarkos-Smith Associates.
Chris said: "I do not want to be weaning pigs under 8kg, with breeding stock from JSR Topigs. If you've got an 8kg weaner, it's a piece of cake to wean – it's eating and it's ready to motor on.
"Now, we've moved the goalposts and we are achieving, on average, more than 9kg. In the hot summer of 2018, the sows had reduced milk, yet we still managed weaning weights of 9.6kg. But to do that, the piglets were consuming 23 litres of milk each during lactation.
Chris said that the summer of 2018 hit the farm badly. The conception rate dropped from nearly 90% to 'the 70s' and the next litters of the sows that lactated during the heat were very poor.
"Until April/May 2018, we were flying along and then suddenly the wheels fell off the wagon. Now the farm is weaning 12.5-13.8 per litter. We also had to drop down to 300 sows, otherwise the finishing houses would have been absolutely bursting," he said.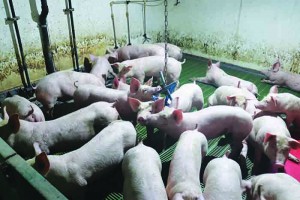 Looking at current production, Chris said: "Because we can wean the pigs heavier now – and their stomachs are so much more acclimatised to taking solids, our average slaughter will be around 140 days and that'll be to 80kg deadweight. We're getting pigs to grow around 850g/day."
The farm did a trial with some pigs during the long, hot summer of 2018 to see what could be achieved regarding weight gains in such difficult weather conditions.
Chris said: "We selected the third biggest pen of pigs. While some pens had a weaning weight of 11.33kg, the pigs from the pen we chose for the trial were weaned at 10.49kg.
"Twenty-nine days after weaning, they already weighed 27.5kg, growing at 559g/ day. We weighed them again at 53 days after weaning before moving to the finishing house and they had grown at 717g/day.
"We weighed them again at 88 days after weaning and they were 89kg, having grown at 897g/day. The trial pigs were weighed again at 102 days after weaning – basically at 130 days old – and they weighed 106kg, growing at 940g/day.
"It showed we don't have milky piglets. There are some pigs that we can get to grow at 1kg a day from weaning."
Looking ahead, Chris said the farm questions everything it does and he conceded that there is huge pressure in trying not to use antibiotics, while the political climate is creating uncertainty.
He said: "We have replaced a finishing shed and spent money on bits and pieces, but I'm looking forward to a time when Brexit is not an issue and we can start moving forward again – unless we go for a hard Brexit and then I'll be quite worried."
They are considering a new finishing building, if the economic climate allows it. He added: "We could go up to around 2,000 finishing spaces and stay within IPCC rules. We have 1,600 finishing spaces and if Brexit goes well, there's potential that I'll be looking for planning permission and we'll be looking to achieve that as soon as possible.
"With our system, what we're looking for is around 480 pigs to be weaned every three weeks and that will keep our finishing buildings at full capacity. With the expansion, we could go up to 520."