| | |
| --- | --- |
| | Jane Jordan reports from this year's MSD Animal Heath/Pig World Round Table meeting that sought to debate whether the GB's pig price premium was justified and sustainable |
---
The 2016 Round Table participants (pictured above, clockwise from bottom left) were: Jane Jordan, Pig World; John Howard, Danish Agriculture and Food Council; Lisa Moore, consultant editor of Wholesale News; Mick Sloyan, AHDB Pork (chairman); Rick Buckle, producer; Jimmy Butler, producer; Simon Davies, Meadow Quality; Zoë Davies, NPA; Nick Robinson, food editor of The Publican's Morning Advertiser
---
The British premium came under scrutiny at this year's Round Table, where panellists included pig producers, policy makers and representatives from marketing groups, the Danish pig industry and the pub/food service business and wholesale trade. The debate proved forthright and passionate, but no conclusive answers were found as to whether the premium was valid or justified in today's highly competitive and increasingly global pigmeat market. However, some stark comments on how British product was perceived by "end users" and its competition proved unexpected and somewhat disconcerting.
Held at MSD's Milton Keynes HQ, the 2016 Round Table debate was perfectly timed. With a price crisis crippling the production sector and the market awash with pork, producers are struggling with huge losses while processors, it seems, are finding every reason not to support British suppliers and their inescapable higher production costs. With good access to less expensive EU cuts and carcases, there's a definite feeling among producers that processors are "making hay while the sun shines". This is denied by the meat trade, which continues to blame retail pressure as the reason why processors are sourcing higher volumes of European pigmeat.
No show
Unfortunately, no processors came to the meeting, despite being invited, and consequently, no account to why commitment to domestic supplies was waning, or the increasingly antagonist relationships that appear to be developing in the supply chain, was available.
Other panellists said the "no show' was no surprise, and one commented how a reluctance to negotiate with producers had been clearly evident throughout the price crisis. Farmers, they said, were drawing their own conclusions and the production sector was becoming extremely vulnerable. If some confidence wasn't restored soon, it was highly plausible that more UK herds would close down and leave the British pigmeat market even more reliant on imports.
Nick Butler of MSD's pig team said the 2016 Round Table had once again generated some thought provoking debate. It had raised fundamental questions about pigmeat promotion, product quality and the UK industry's welfare-oriented strategy.
"The current price crisis has concentrated minds on the true value of our British production standards and some of the observations and ideas discussed here will hopefully be taken forward to help the UK strengthen communications with its customer-base," he said. "They may even help to open up new opportunities within the food service and wholesale sectors."
Consumer attitudes are evolving, and must be recognised. The British pig industry must improve its competitive position, but in so doing must also ensure it takes a leading role in building confidence in the farming systems it uses and the pigs and pigmeat it sells.
---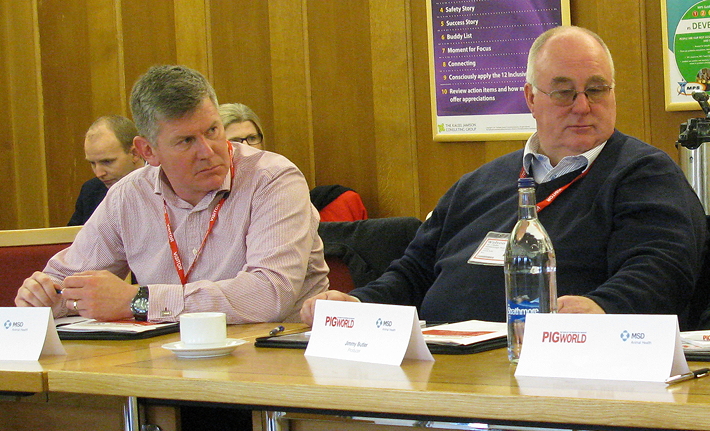 Price differential essential, but consumer confusion must stop
The British premium, awarded to bolster the high production costs associated with Britain's more extensive/outdoor, welfare-led production methods, is formulated using the EU reference price – a weekly guide that indicates market and supply trends. It also takes account of fluctuating exchange rates between the euro and sterling.
When the GB premium began in 2013, its value was about 19p/kg, rising to 40p when market prices were high in 2014/15. The premium on the day of the Round Table was 16p/kg and predicted to fall to 12p, in line with plummeting pig prices and limited market support.
These peaks and troughs are a consequence of market volatility and unpredictable consumer and retail demand, which from a production perspective is frustrating. British pig farmers have made a solid commitment to high-welfare production, with most forced to switch their production systems to comply with legislation, discerning QA schemes and comprehensive consumer demands. Conversely, the welfare commitment made by processing and retail sectors has proved tenuous and producers feel a "run with the hare, hunt with the hounds" culture exists.
Producers Rick Buckle and Jimmy Butler said differentiation was important for the British pig sector, and that the premium was vital. The standards used here were higher and more far-reaching than those implemented elsewhere in Europe or the world.
Mr Buckle, who was the 2015 Pig Farmer of the Year at the National Pig Awards, has a 2,000ha mixed farming business in East Yorkshire. A fourth-generation farmer, his family runs a modern breed-to-finish operation, feeding all its pigs on home-grown and milled diets. This integrated business rears all of its progeny to slaughter and in recent years has invested in a substantial energy generation enterprise.
Mr Butler, who is current holder of the pig industry's Chris Brant Award, has a family founded outdoor breeding and pigmeat production business near the Suffolk coast. With 2,000 sows, the business finishes about 70% of its pigs for its own brand, Blythburgh Free Range. The rest are reared indoors on straw and marketed under contract through processors.
"It's a battle to make a living with a premium, let alone without one," Mr Buckle said.
Both he and Mr Butler were adamant that British producers deserved this support because production standards here were not equal to those used by other pig industries.
"We operate under very different conditions and that needs to be reflected in the price we receive," Mr Buckle explained. "Our higher welfare standards make our pigs more expensive than others, but retailers do tend to look after their own profit margins, and not their supplier's needs."
Mr Butler agreed, adding that the industry's commitment to satisfy retail demands for welfare-friendly pigmeat, well ahead of its European competition, had compromised productivity and its competitive position in Europe's free trade market. EU farmers had been allowed 12 years to comply with higher welfare sow systems, and the management techniques needed to make them profitable before the EU-wide ban on gestation stalls and tethers came into force in January 2013. The UK began phasing out all stall and tether accommodation in 1991, before its ban was enforced on January 1, 1999.
Forced investment
Mr Butler also explained how pig businesses had been forced to invest in production methods that required more labour and incurred higher operating costs. Loose housing systems and outdoor production were known to be less efficient, but the wholehearted support of the retail sector at that time encouraged farmers to invest in these welfare-friendly options alongside robust quality-assurance and traceability audits. These additional costs were absorbed solely by the production sector – with no financial support offered from government or elsewhere – and huge sums were ploughed into pig enterprises to merely "stay legal and stay in business". There was no guarantee that the systems farmers chose to replace intensive housing would benefit herd productivity, efficiency or profit potential.
Many businesses naively founded their futures on a "false promise" that the UK retail sector – and to some extent the Government – would support the stall and tether ban and commit solely to pigmeat produced to British standards, said Mr Butler.
"We responded to market demands, upheld legal obligations and invested heavily to provide consumers with what they wanted, but over time our customers have let us down badly, and with no accountability," he added.
Almost two decades on, the domestic pigmeat market was littered with ambiguous sourcing policies and a trail of broken promises – a situation that had left producers and the supply chain vulnerable, and consumers confused.
Surveillance and provenance
Mr Buckle said the horsemeat scandal had demonstrated how important provenance and food security were to this country. The recession might have tightened purse strings, but these remained fundamental issues for consumers, and the public wanted to support British livestock production. So why had attitudes now changed so radically, he asked.
"Our nation needs to have a base supply of fresh food, but we are in danger of becoming a net importer of food and that has implications for public health as well as the economy. Food security must be a priority for the UK, we must be able to control risk, horsegate taught us this," he added.
PorkWatch, the NPA's retail surveillance scheme, provides robust information on the positioning of GB product on the retailers' shelves. It monitors fresh pork facings in stores throughout the UK and measures the weekly offer against competing products – be that imported pigmeat and/or other fresh meats.
"We, the industry, collects this data and it's a very powerful tool when discussing, and sometimes challenging, the sourcing policies of our major multiples," the NPA's chief executive, Zoë Davies, said.
She also noted its importance in maintaining a GB dominance in the domestic fresh pork market. Retailers, Ms Davies added, had a solid understanding of why British pigmeat was more expensive and why premium prices were necessary.
"They want high-welfare, quality-assured and straw-based production, but this type of production is more expensive. It increases costs for pig businesses, so they must pay more. The British premium is justified."
Since horsegate, eight out of 10 major multiples had committed to sourcing only fresh British product, while the others, Tesco and ASDA, concede they can't commit to 100% British as there's not enough domestically produced pork available to meet their needs.
For a country only 45% self-sufficient in pigmeat, many feel this situation should present opportunities for growth, not further rationalisation, but the economics disagree.
According to Round Table chairman Mick Sloyan, the strategy director at AHDB Pork, self-sufficiency does not equal profitability. During the 1980s, when the UK was 80% self-sufficient, the industry was far from profitable. Statistics show today's pig sector is now economically better off than it was back then, because it has established higher value markets for its lower value-cuts.
"Identifying the best outlets for certain products/cuts, and then developing volume sales in these markets is the way to make money," he said. "Nowadays, the British pig sector sells significant volumes of pig products into a diverse and lucrative set of markets, which bolsters domestic revenues. It's a key reason why we can have a premium."
---

Undersold and unintentionally undervalued
Has the pig industry's fixation with the multiple retail sector and their welfare whims eclipsed marketing potential in food service and the wholesale trade?
Comments made by the consultant editor of Wholesale News, Lisa Moore, and the food editor of The Publican's Morning Advertiser, Nick Robinson, demonstrated that they knew very little about British pork, its provenance or why it was any different from imported product. Their responses stunned other panelists and left most of them wondering if current pigmeat promotion strategies were heading in the right direction.
Ms Moore said few wholesale businesses would have aspirations to develop opportunities for British pork, because most of them were unaware of its high-welfare, quality-assured status. But this sector was worth exploring as "Britishness" offered incentives to add value, particularly in fresh food lines.
"The wholesale sector is worth £30 billion, and provenance is becoming increasingly important," she said. "Businesses that are moving into fresh meat supply, particularly those serving premium outlets, do want traceability and assurance, and they're keen to work with specialists to meet these needs. There are serious opportunities here that the pig sector should be looking at."
Mr Robinson said pub chains might offer opportunities, too. Their sourcing policies were similar to retailers, but were often very price sensitive.
However, the growing trend for "breakfasting out" was encouraging larger chains, such as Wetherspoons, to explore more exclusive and novel product lines.
"There might be openings here for processed products rather than fresh meat," he said. "Establishing a presence means the pub trade needs to know about your product, why it's different and what it can bring to their food businesses. Perhaps if more pub chefs understood more about British pork products, they'd source more of it."
Pub diners like patriotism – British pub grub appeals – but Mr Robinson did reveal that most customers were now less concerned about locally produced or high-welfare than they were about value for money. The British offering has to be competitive as most chefs operate extremely tight budgets.
"Quality and price dictates purchasing decisions and most pub chefs regard pork and pigmeat products as commodity-type ingredients," he added. "Very few will be aware of British provenance or what the Red Tractor stands for."
However, greater awareness could change attitudes, as the more discerning gastro-pub trade shows. About 50% of fresh pork currently used by these outlets was UK sourced, with some potential to grow market share.
Simon Davies of livestock marketing group Meadow Quality (MQ) shared many of these wholesale/pub trade views. He felt the British pig industry had struggled to protect and/or promote its superior status against a backdrop of tough economic conditions and more efficient competition.
MQ trades 8,000 finished pigs a week into the processing sector, and Mr Davies said traceability could be very difficult to police with imported meat as a lot of ambiguity existed in supply chains.
"Imported product may or may not meet the same standards as the pigmeat produced in this country, but it's very difficult to find out the facts as audit trails tend to run dry," he said. "As a fresh meat supplier, MQ must understand its customers' specific needs and why they source certain products. Our customers must have confidence that what they purchase is what their customers want to buy. Unfortunately, British pig production has become a high-cost supplier to the pork chain."
Carrying a high-welfare tag, also presented other limitations, as it usually meant most production was drafted to the fresh pork market.
As Mr Davies pointed out, this sector prefers certain cuts, and only these may be worthy of a premium. From a processors' perspective, it's often more difficult to justify paying a higher price for parts of the carcase that are usually destined for further processing. Unless these cuts can be used to add value to manufactured products or traded to supply high-end brands, it can prove a very tough sell.
"Ultimately, it's about balancing the basket and this is where our difficulties lie," he added.
---

Key questions, poignant points
> Should processors pay a British premium?
Yes, because supplies are secure and pigs produced on British farms have a high welfare value and are quality assured. UK processors make money from high-welfare pigmeat – the growing pork export trade is testament to this. It's a valuable asset worth paying extra for.
> Is the high welfare ideal realistic in an increasingly competitive market?
Yes, and no. For niche markets, premium brands and exports, being high-welfare is favourable – it captures higher prices from affluent consumers. The US Chipotle deal and expanding markets in China and Asia demonstrate that welfare has appeal worldwide.
According to Government figures, UK pork exports are worth £214 million a year. More than 283,000t of product was exported in 2015. Mick Sloyan of AHDB Pork said almost all of the pork traded overseas met high-welfare and quality-assurance specification and these lucrative markets were ripe for expansion.
"They like what we do and at the moment no one else can meet the high welfare specifications they demand," he said.
Welfare offers the British industry some security on the export front – for once it's ahead of the game – but competitors are beginning to fight for market share.
But in the commodity market, quality and value is what counts. Pork is an economic meal option and imported product ticks the right boxes. To secure market share here, British pigmeat has to be competitive and of an equivalent quality to the more efficiently produced EU offering. Britishness has appeal, but if it doesn't meet culinary, taste or budget expectations it will get left on the shelf.
> Premium payments for premium quality, please?
Heightened interest in pigmeat quality is encouraging more producers to look at quality control within their own farm systems. Many believe premium prices should only be awarded to those producing pigs that consistently meet specifications, irrespective of the production method used to rear them. Using more precisely controlled management techniques can help to improve the uniformity and consistency of the pigs produced. Semi-intensive and extensive systems tend to be less controlled, hence greater variation occurs within each batch of finishers. A high-welfare production system doesn't necessarily produce high-quality pigmeat.
> Is pigmeat promotion on the right track?
Perhaps not. High-welfare and locally produced are old hat. Consumers are more interested in sustainability, convenience, reliability and culinary innovation – issues British pigmeat promotion could weave into its promotion strategies.
The pig sector also needs to acknowledge pork's standard-class rating – it doesn't engender the traditional/heritage response created by beef or lamb. Good value, convenience and versatility are pork's key attributes and pitching it alongside poultry meat would be a smarter move. Also, further engagement with consumers – who on the whole like to eat meat – would help the pig industry understand more about what they wanted from a food product. Being more savvy with social media, celebrity endorsements, consumer media and pop-culture could access a younger, more adventurous demographic.
> Branding – would it work?
The UK pig industry is small and the potential to "control production" does offer branding opportunities. Producer Jimmy Butler believes it's feasible – it works for integrators such as BQP – but more standardisation would be required across the production sector.
Branding, he said, would empower producers and give them more control of how they sell their pigs and who they supply. But if this was the way forward, then some serious investment would be needed to improve product quality and uniformity. A successful brand must conform to defined specifications and have consistency of supply. And quality control must run alongside quality assurance. Currently, satisfying such criteria on a national scale would be difficult, due to the age and diversity of production systems used on UK farms, the resources available on individual units and the numerous genotypes reared. But branding should not be written off, particularly if the British industry's principal objective is to produce high-welfare meat.
> Critical mass – what's viable and what's profitable? Rick Buckle asked if the industry actually knew how many pigs it needed to produce to be sustainable and profitable.
"Do we have a critical mass, a volume that satisfies processor requirements? A target number of pigs that producers should be aiming for. Do we need to restructure our industry to accommodate inter-trading between processors? What do we need to do as an industry to allow market forces to work properly?" he said.
Panellists agreed these were valid points, worthy of investigation. Having a processor's view would have been valuable.